This is the second post on cosmetic products; still my love towards innate remedies is strong, and in no way am going to have serious relation with skin care creams.
But, Fair and lovely advanced multivitamin cream is an exception. Why?
Right from my schooling, am seeing and using this brand (3 years back I stopped using all creams). It is now the part of my family, my father desperately needs it every morning. Yes, even men use it, though we've special creams for them.
I wonder why people (like my father) become so restless when they don't find fair and lovely cream. Come on it's just a cream and you can survive without it. The bitter truth is, fair and lovely cream is making people dependent, or may be their customers love enticing ingredients in it.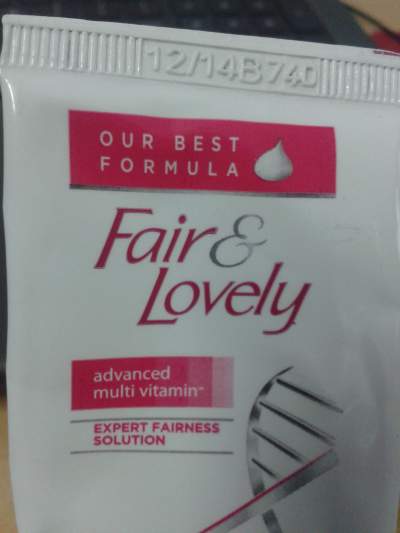 Let's dwell into its ingredients and find out.
Ingredients
Natural moisturizers like water, glycerin and palmitic acid are housed in fair and lovely advanced multivitamin cream hydrate your skin from outside.
Stearic acid residing in this fairness cream acts as a strong cleanser, which also locks oil and water over the skin.
Potassium hydroxide incorporated in fair & lovely advanced multivitamin cream maintains pH level of the skin.
As you can see most of them are nature extracted ingredients, may be this is the reasons why people are hooked with this fairness cream. Below is the image of list of ingredients.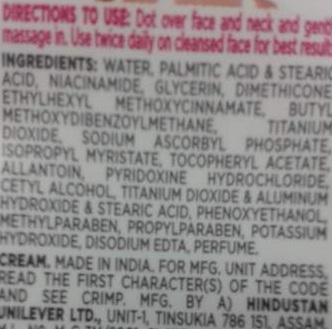 Price: 89 INR for 50 g
Life: 2 years
Claims to Treat:
Skin marks
Sun tan
Dullness
Dark circles
Skin color
Fair and Lovely Advanced Multivitamin Cream Review
The cream is soft and baby pink in color. As soon as you apply the fair & lovely cream topically you'll have greasy feeling. Within few seconds your skin absorbs the cream, to avoid excess greasiness limit the quantity. It's an instant moisturizer and improves your skin tone. Back then when I used fair and lovely brand it helped me get rid of dry patches and brown spots.
I tried it over red pimples as a spot treatment and within 2-3 days (I don't remember the exact number of days) bump reduced. Though, the cream doesn't fulfill all claims, to some extent it works.
Pros of fair and lovely advanced multivitamin cream
Comes with aromatic smell, your partner will love.
Moisturizes your skin.
Treats dry patches.
Affordable.
Easy to carry.
Cons of fair & lovely advanced multivitamin cream
People with oily skin must use small quantity else it makes your skin greasy and attracts dirt.
Fail to fulfill claims.
Conclusion
If you're looking for inexpensive and effective face cream, then this cream is must go for you. But I personally recommend you to try natural moisturizers like jojoba oil or virgin coconut oil, as they are free from chemicals and contain unmatched ingredients.