If you're a cartoon watcher then you might have seen Popeye the Sailor Man (the cartoon character) taking spinach to build his physical power. To some extent it's true; you can build a healthy body though not tough with spinach. Spinach is native to central and southwestern Asia. Anyway according to metrics in 2011 United States got second position in spinach production.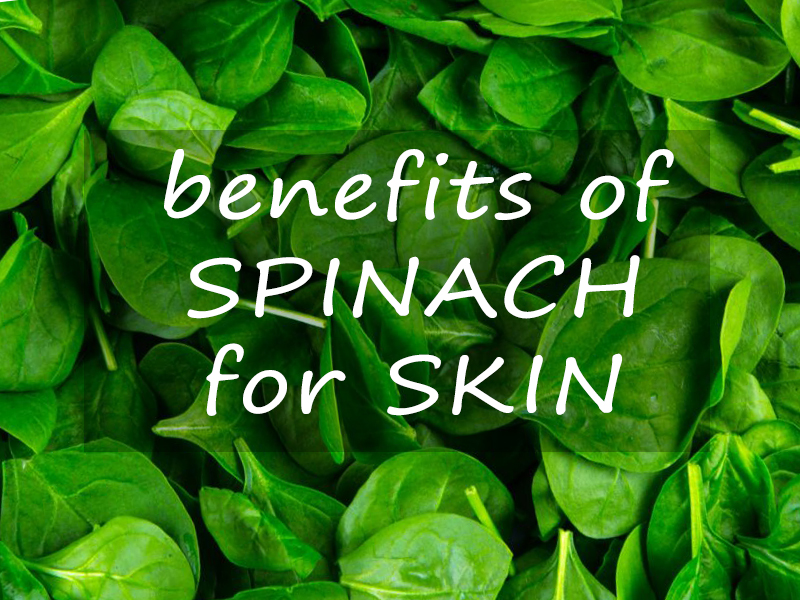 Dark green leafy spinach is powerhouse for nutrients, minerals and antioxidant. Having this you can cure many harmful diseases both with spinach.
Also Read: 15 Best Collagen Building Foods for Your Skin
Before knowing about the vitamins and minerals let's see types of spinach.
Types of Spinach:
Spinach comes in three types Savoy, Semi-savoy, and Flat-leafed. Spinach grows best in cooler temperature. It grows about a height of 30cm.
Savoy Spinach:
It has crinkled leaves with low growth making washing leaves a chore. Cooler temperature is good for this type of spinach.
Semi-Savoy Spinach:
Unlike Savoy spinach semi-savoy spinach aren't crinkly, so you can easily wash.
Flat or Smooth-leaf Spinach:
It comes with broad and smooth leaves, making it easy to wash.
Spinach Nutritional Value
This dark green leaf has beta-carotene, an antioxidant which helps skin to repair its cells. Also helps in slowing down cancer cells. Spinach has bunch of nutritional values which are listed below.
Vitamin K, Vitamin A, Manganese ,Folate ,Magnesium0, Iron, Vitamin C, Vitamin B2, Calcium, Potassium, Vitamin B6, Trytophan, Vitamin E, Dietary Fiber, Copper, Vitamin B1, Protein, Phosphorous, Zinc, Omega-3 Fatty Avids, Vitamin B3, Selenium.
Benefits of Spinach for Skin
We all crave for healthy and glowing skin. Like other body parts skin contains cells, to keep having a glowing skin you must provide required amount of nutrients. In previous post we discussed on foods which are best for skin. Here spinach has more nutritional values which help you get rid of many skin diseases.
Spinach helps rejuvenating and refreshing skin when used has face mask. Mix blended spinach with little water and apply it on your face for about 20 minutes. Taking spinach in liquid form is more preferred. Procedure to make spinach and vegetable juice is mix half tomato, ¼ cucumbers, one carrot, one celery, half red pepper, half cup cabbage, one green onion and a handful of spinach. Blend these vitamin rich ingredients and drink daily.
Our body is made of 80% of water. Cells need enough amount of water to function properly. Taking enough amount of water will help you develop strong immune system to fight diseases. Spinach is has rich amount of water content in it. Take it in cooked or juice form and you're providing enough amount of water for your body.
Dry skin is on among the reason for wrinkles. Spinach contains Iron and Vitamin C which are important for collagen production. Collagen is protein responsible for skin and muscle elasticity.
Spinach is rich source of vitamin A and vitamin C. Vitamin A helps to keep smooth skin tone while vitamin C helps to build skin cells. Collagen present in skin responsible for skin elasticity and skin tone needs vitamin C and iron present in Spinach.
Spinach contains antioxidants which help to reduce cancer cell growth.
Vitamin K and folates in spinach reduce diseases like acne, dry skin and stretch marks making skin clear. Your skin glows when you provide rich amount of vitamins. No it won't make you white if you're black.
Vitamin B in spinach helps you from harmful UV rays which cause skin cancer, premature aging and other skin diseases.
Experts suggest that cooked spinach is more nutritious than raw spinach because we can't digest all the nutrition from raw spinach. Exceptionally liquid spinach with other vegetables is preferred.
If you want to stay away from chemical filled masks and peels, try this innate homemade spinach face mask mixed with honey and other natural ingredients.
Things you'll need
Fresh spinach leaves – 5 or 6
Raw honey – 1 tbsp (you can try manuka honey)
Lemon juice – 2 tbsp
Almond oil – (optional)
Water
Procedure
Chop fresh spinach leaves, mix raw honey, lemon juice to it. If you've sensitive skin, stay away from using excess lemon or add few tbsp of water.
The obtained mixture will be sticky.
Wash or cleanse your face first, then apply this homemade spinach and honey face mask.
Let it settle for 20 minutes and rinse it off with water.
Repeat the process to get smooth well toned skin.
You just covered discussion of spinach for skin. Spinach has mush more to give. Interested to know, below are references.