Witch hazel is an herb renowned for its medicinal activity. Tannin is a chemical compound in this plant that plays vital role in treating various skin ailments.
Apart from using it topically, you can use witch hazel internally to treat various diseases. Its bark, leaves and twigs are used to make medicine. Assorted nutrients residing in witch hazel plant reduces itching, swelling, inflammation and enhances healing minor injuries.
Unlike other beauty care products, this herbal remedy is inexpensive and can be available at local drug store. Get it and apply it over affected part with cotton ball and the healing process starts.
Cleansing property in this mask can be used to exfoliate impurities accumulated over the face.
Controls excess flow of sebum and hydrates the skin from outside.
Anti-inflammatory properties residing in witch hazel reduces acne inflammation.
Other nutrients housed in this herbal plant helps to treat dry skin and itching.
Stimulates fast healing of minor burns and injuries.
How to Make Witch Hazel Face Mask at Home?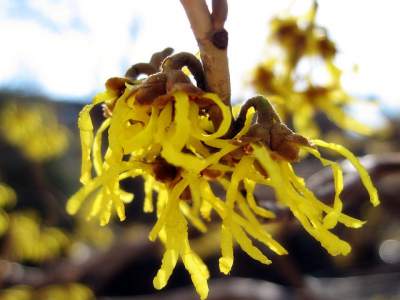 To reap the benefits of witch hazel, it's better to make your own witch hazel face mask at home. Store bought products are often refined and lack nutritional value.
1. Witch hazel face mask for acne
Astringent property in witch hazel is renowned to control excess production of sebum and its anti-inflammatory property reduces inflammation.
Mix 1 tea spoon of witch hazel to tea tree oil and 2 tbsp of raw honey.
Optionally, add few drops of lavender oil or any other essential oil for aroma.
Wash the affected area with lukewarm water and pat dry, so acne lesions open up.
Now apply mixed mask topically over the face and around the neck.
Leave it to dry naturally and then rinse it off.
2. Witch hazel and lemon juice face mask
Whisk one egg white and mix 6 drops of witch hazel to it. Optionally add 1-2 drops of lemon juice to remove dry patches from the face.
When you're done with mixing ingredients then apply the mask over the face. Leave it for 15-20 minutes and then rinse it off.
Lemon juice is acidic in nature, which can stripe natural oils from the skin. Sensitive skin people are advised to limits it use.
3. Witch hazel and milk powder face mask
Blend one egg (exclude egg yolk if needed) with 4 tbsp of no-fat milk powder and 1 tbsp of witch hazel.
Rinse your face with water and then pat dry.
Topically apply the face mask and then leave it to dry naturally.
When the mask dries up, splash water over the face and pat dry.
Unlike other beauty products witch hazel exhibits no side effects. Witch hazel face mask can be effective when used regularly.