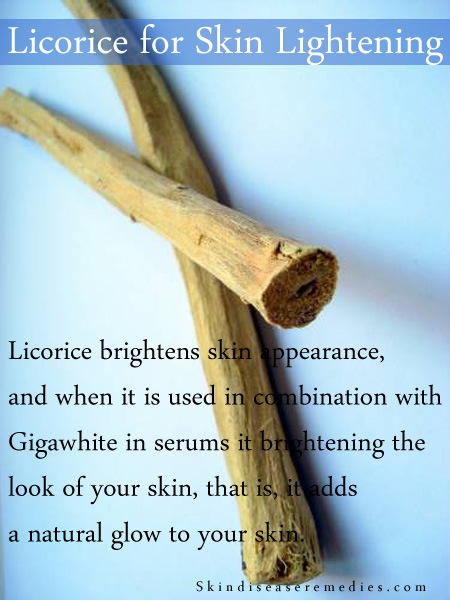 This root is prominent to treat digestive issues, stomach ailments and to flavor foods. Not just that, this nature extracted root is packed with cosmetic benefits. Spare some time to know uses of licorice extract for skin lightening.
Also known as mulethi powder or yashtimadhu, licorice root powder isn't associated with side-effects.
When you hear about skin brightening, the first thing that hits your mind are media promoted beauty products.
Not knowing about the ingredients women flock for cosmetic creams. Enticing campaigns by the cosmetic industries fail to fulfill their claims.
Even dermatologist refrained use of few cosmetic creams as they include chemical ingredients that can trigger contact dermatitis in some people. (1)
Instead of spending huge money on beauty products, spend some time with your granny, she will relieve you a bunch of home remedies for common skin ailments.
You can't expect gorgeous look with impurities and dry patches on the skin. The alarming increase in pollutants pile over your skin along with dead cells, and if you don't care to wipe them, they form dark spots.
Have a glance at your kitchen and you'll find a bunch of ingredients that can turn your dark skin to radiant. Well, I must disclose that these remedies may or may not change your skin complexion. The impurities, excess sebum and dead cells make your skin dark, which can be removed using these remedies.
What Cause Dark Complexion?
I believe you've basic knowledge about your skin.
Your skin gets its color from a pigment known as melanin. Hold on, I'll not bore you with a biology class here.
For a basic understanding, there are several external and internal factors that influence the production of melanin.
Some of them are UV rays, certain medications, stress, skin ailments, beauty creams filled with harmful ingredients, smoking, alcohol, and low vitamin intake.
And the list goes on.
Excess formation of melanin obviously results in dark complexion on your skin.
Fortunately, with time and few home remedies, you can lighten the appearance of your skin.
Benefits: Licorice Extract for Skin Lightening
Your prayers for radiant skin are finally answered.
Licorice is an herb which has extensive use in herbal remedy. The root of licorice effectively works on your sensitive skin without stealing its moisture. Interesting thing is that you can blend other herbal oils with this innate ingredient.
Glabridin present in this root has the ability to inhibit melanin production. Less pigment leads to whitening skin.
Nutrients in this root extract can control excess production of sebum and prevent oiliness.
Exceptional properties like antioxidant, anti-inflammatory, antimicrobial, antiviral and anti-carcinogenic are included in this oil.
Compounds like glycyrrizinic, saponins, flavonoids and glycosides are also packed in this herb.
A study carried out to check the effect of licorice oil for skin lightening.
Other ingredients like retinoic acid and betamethasone were blended with this herbal extract. In 70 percent of people the remedy shown a positive result.
Assorted nutrients housed in licorice root extract guards your skin against UV rays.
This nutritional profile enticed cosmetic world, so you can find licorice root extract in most cosmetic and skin disease creams.
But as they are refined and mixed with chemical substances to increase the shelf life of the product you may not find it more effective.
For acne and dark spots, you can use it as a spot treatment. Assorted nutrients in licorice oil reduce production of melanin and thus help to get rid of hyperpigmentation.
There are reports which claim that topical application of licorice oil can reduce eczema inflammation, which is a chronic skin issue and is accompanied by the dry itchy skin.
How to Use Licorice for Skin Lightening?
Licorice root powder or extract works on all skin types; you don't have to worry if you've oily skin. Unlike cosmetic creams, this oil is gentle towards your skin. It helps to cleanse impurities, hydrate skin and fade dark spots.
Natural remedies always fill your skin with vitamins and minerals with which your skin starts to glow naturally.
Cosmetic cream can make you look beautiful for time being, but the effect of licorice oil on your skin will bring back those lost youthful days.
#1 Method: 1
Experts recommend blending licorice oil with gigawhite serum for skin lightening. You can find this combination in a local drug store.
Initially, wash your skin with water or cleanse it. Pat dry with soft cloth and massage gently with the mixed serum. Leave it to dry naturally.
#2. Turmeric and Licorice Root Powder for Skin Lightening
Turmeric is an edible ingredient and extensively used for its culinary purposes. Indian women use this natural remedy to achieve spotless and whitening face.
Housed with anti-inflammatory, antiseptic and skin whitening abilities, turmeric powder application can remove unwanted thin hair from your face.
Mix 1 tablespoon of licorice powder with 1 teaspoon of turmeric and 1 tbsp of rice flour.
Add required amount of rose water to obtain smooth paste-like
Wash your face and then apply the mask evenly.
Allow it to dry naturally for 15 minutes and then rinse it off with normal water.
Also read: Is Turmeric Good for Skin Whitening?
#3. Sandalwood and Licorice Skin Whitening Mask
Sandalwood is renowned for its cosmetic benefits. Vitamins residing in this natural ingredient can effectively lighten your skin, improve its texture and restrain skin ailments.
Exceptional nutrients loaded in this natural ingredient can promote collagen production and improve elastin.
Take 1 tbsp of licorice root powder and mix with ½ tbsp of sandalwood powder.
Add 4 tbsp of raw milk to make a paste.
Apply the obtained mask on your face and leave it to dry for 15 minutes.
Wash the face mask with normal water.
#4. Honey and Yashtimadhu for Skin Lightening
Extolling benefits of honey are documented in religious scriptures and historical books. Prominent for its humectant, skin brightening, anti-inflammatory and healing abilities, honey is a gift for mankind.
You can literally treat health, skin and hair ailments using this natural ingredient.
Take organic or raw honey and mix it with 1 tablespoon of licorice powder.
Add few drops of lemon juice to lighten dark spots.
Mix thoroughly and then apply it on the prewashed
Wash it the mask using normal water.
#5. Milk and Licorice Root Powder
Raw milk is known for its skin lightening abilities. Prominent Egyptian Queen Cleopatra bathed in milk to attain alluring beauty.
Mix 2 tbsp of licorice powder with a required amount of plain milk.
Apply the obtained paste on prewashed face.
Rinse it off with water after 15 minutes.
#6. Rose Water and Mulethi Powder for Skin Whitening
Rose water is loaded with all essential nutrients that your skin needs. Renowned for its healing, humectant and anti-inflammatory abilities, rose water can help you achieve whitening skin.
Oatmeal included in this recipe can help to exfoliate your skin. The soothing ability of this home available ingredient can reduce inflammation.
Cook oats to make a smooth paste, add licorice powder and required amount of rosewater to it.
Now wash your face with lukewarm water and make sure to clean it.
Apply the face evenly, leave it to dry naturally.
Rinse it off after 15-20 minutes.
Must read: How to Use Oatmeal for Skin Whitening?
Both mulethi powder and its oil have exceptional benefits for your skin and health. You can use it as a spot treatment to fasten the healing process. As mentioned above, it can moisturize your skin and remove dark complexion.
Your skin turns dark due to various factors including hormonal imbalance, prolonged exposure to sunlight, hereditary, low vitamin intake, dehydration, skin ailments and by spending long hours before a computer screen.
So you must change your lifestyle when you start using this remedy, like drink enough water, take vitamin-rich diet and over yourself while going out.
Gram flour, rice powder, and raw honey are other natural remedies for glowing skin.
If you ever used licorice root for skin lightening, share your recipe in comments.