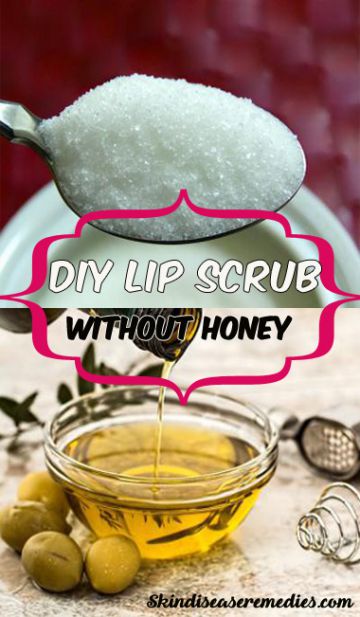 Do-it-yourself recipes are getting popular because they are effective and chemical free. This DIY lip scrub without honey will make your lips enticing.
The reason, why DIY gaining popularity is because, we all love to have control on things applied on the skin. Unlike chemical incorporated products, natural ingredients are loaded with essential nutrients.
Now, it's time to make your own lip scrubs.
Before that, why you need to scrub your lips?
The sensitive skin over lips easily gets dried if you don't moisturize them. A crusty layer of dead cells will be piled over the lips, which normally end up getting bitten or peeled off.
Yes, it's annoying but peeling the layer of dead skin won't work. Instead, you must try homemade ingredients to exfoliate, as you do with your face.
Initially, you must cleanse accumulated dead cells and impurities off the lips. But, you can't use the same exfoliator that you used for removing dead cells on the skin. Anyway, a mild exfoliating recipe will do wonders.
After exfoliating apply moisturizer to hydrate the skin. The natural healing ability of the skin helps to achieve aesthetic look.
7 DIY Lip Scrub Recipes (Without Honey)
Emollient, healing and cosmetic benefits of honey are prominent, which needs no explanation. However, if you're sensitive towards honey or don't want to apply over lips make your own homemade lip scrub without honey.
Also read: Sugar and Honey Lip Scrub Recipe
#1 Sugar + Olive oil
Sugar is prominent to remove dead cells on your lips and promote cell regeneration.
Everyone knew about hydrating and healing properties of olive oil. Its topical application will remove dark spots on your lips and make it natural pink.
Take 1 teaspoon of sugar in a bowl and add few drops of olive oil to it. Olive oil can hydrate your lips and also makes it easy for you to apply sugar.
Gently rub the lip scrub over chapped lips and rinse it off with water. Don't peel or bite dead skin over the lips.
Apply moisturizer or lip balm after rinsing with water.
Repeat the process once in a week.
#2 Lip Balm + Sugar
Take your favorite lip balm and add required amount of sugar to it. Mix thoroughly and gently rub over the lips.
Initially, you can try with a small amount of lip balm.
The excellent thing about this recipe is that you can try different flavors of lip balm.
But, make sure that you aren't using chemical included lip balm or it may irritate your sensitive lips.
#3 Brown Sugar + Vanilla Lip Scrub
If you're that unfortunate girl who suffer year round chapped lips. Then this recipe is for you.
Who doesn't love vanilla and its smell is so good.
Now, mix vanilla extract with brown sugar and gently apply on your chapped lips.
Take 2 teaspoons of brown sugar in a mixing bowl. Add ¼ teaspoon of vanilla extract and 1 teaspoon of olive oil to the bowl.
Mix thoroughly and apply it over your sensitive lips.
Rinse it off with water and apply natural moisturizers like olive oil or lip balm. (source)
#4 Coffee + Olive oil + Sugar Lip Scrub
Apart from being an energy booster, coffee is packed with antioxidants and exfoliating abilities that lighten the appearance of scars on skin and dark spots on lips.
Mix ½ cup of grounded coffee, 2 tablespoons of olive oil and ¼ cup of sugar in a bowl.
Once you get required consistency, gently rub it over chapped lips and rinse it off after 5 minutes.
#5 Lemon Sugar Lip Scrub without Honey
Lemon is renowned to reduce dark spots and treat skin ailments. You can use its juice on lips.
But, repeated use of lemon juice can make your lips sensitive.
Benefits of glycerin for lips are exceptional; it is packed with healing, moisturizing and ability to lighten the appearance of dark spots on lips.
Slice lemon and sprinkle ½ teaspoon of sugar over it. Now, rub the sugar sprinkled lemon over chapped lips.
Alternatively, mix glycerin, lemon juice and sugar in a bowl and apply it over lips.
#6 Lemon + Mint Leaves
Both ingredients are known to have a bleaching effect and can effectively remove dead cells.
Gently rubbing your lips with fresh mint leaves will help to obtain natural pink lips. You'll love its aromatic smell.
Mash fresh mint leaves and drop 1-2 drops of lemon juice on it.
Apply the mixed mint paste over lips and gently rub over lips for 5 minutes.
#7 Cucumber
Take fresh cucumber and slice it into small pieces. Take one sliced piece and start rubbing over lips.
Cucumber consists of water and it easily hydrates your lips. Apart from this, regular rubbing will cleanse dead cells off the lips. This home available ingredient exhibits skin lightening properties that help to get rid of dark lips.
Bonus – Coconut Oil and Vanilla Lip Balm
Lip balms available in the market are incorporated with chemical ingredients that aren't good for your sensitive lips.
Fortunately, you can make your own lip balm at home. After exfoliating, you must moisturize and heal your lips. You'll need natural ingredients for this purpose.
You'll need:
Cocoa butter – 2 tablespoons
Virgin coconut oil – 2 tablespoons
Beeswax – 2 tbsp
Vanilla extract – 1 teaspoon
Take the grated beeswax in a bowl and add cocoa butter, coconut oil to it. Shift the ingredients to double boiler and add water up to 1-2 inch.
After few minutes, when the ingredient melt, remove and add vanilla extract to it.
Stir vigorously. Cool down and shift to lip balm container.
There is huge list of DIY lip scrub without honey recipes.
Sugar and olive oil is my favorite recipe. Let me know your favorite recipe in comments.