In a study carried out to measure the antioxidant capacity of foods in US, strawberry notched 27th place. When only fruits were considered, this juicy heart shaped fruit ranked 4th among all fruits. Like its physical presence it's internally packed with exceptional nutrients.
You can reap these renowned properties for skin by topically apply over face and around the neck. When you mix strawberry face mask with other innate remedies they make your skin radiant and well hydrated.
Strawberry Face Mask Benefits
As mentioned polyphenol antioxidants in strawberry face pack will reduce fine wrinkles and restrain infectious bacteria.
Astringent properties housed in this facial mask will help to shed dead skin cells. But those who've dry skin limit its use. (1)
Strawberry is rich source of vitamin C, which shows antioxidant properties. Vitamin C helps to get rid of black complexion and it's a great remedy for skin whitening.
Anti-inflammatory agents packed in strawberries decreases inflammation in digestive tract and over the skin. Acne, which is mainly caused by inflammation, can be reduced using this strawberry face mask.
In 1 cup of strawberries you'll find 5% of biotin, which has healing and moisturizing properties. It has been incorporated in many skin care creams.
Omega-3 fatty acids add great nutritional value for skin. It decreases inflammation and increases healing properties. (2)
Vitamin B6 consumption will decrease acne blemishes. Low intake of vitamin B6 will result in itchy and scaly skin. (3)
Strawberry Face Mask for Glowing Skin
As a simple face mask recipe, mash few fresh strawberries or blend them. Prepare your face by washing it with water and pat dry. Apply the blended face mask over the skin. Leave it for few minutes and then rinse it off. Alternatively, depending upon your skin type you're free to add any other natural ingredients to this face pack. Below are few DIY recipes.
1. Strawberry and Kiwi Face Mask for Oily Skin
Kiwi is packed with vitamin C, fiber, vitamin E and K, which are responsible for its exceptional healing properties. Add it with other innate ingredients and it turns out to be an excellent skin care cream. Shedding dead cells, reducing acne, fading wrinkles are few benefits of applying kiwi.
Things you'll need
Strawberries -2
Kiwi – 1/2
Raw honey – 1 tbsp
Cornmeal – 1 tbsp
Oats – 1/2 tbsp
Olive oil – 1/2 tbsp
Start with blending strawberries and kiwi. On other side, mix honey, olive oil and finely grounded oats. Mix all ingredients and stir well. Wash your face and pat dry with soft cloth.
Now apply the strawberry and kiwi face mask using your clean fingers. Leave it for about 15 minutes, and then rinse it off. (Recipe source: Crunchybetty)
Must read: Kiwi face mask recipes
2. Honey and Strawberry Face Mask for Acne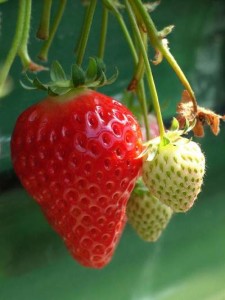 Historical and religious books are filled with extolling benefits of raw honey. Its healing, antibacterial, antioxidants and anti-inflammatory properties are highly constructive for supple and healthy skin. According to skin experts, acne blemishes are triggered because of inflammation. Properties housed in honey thwarts acne causing bacteria and reduce inflammation. Repeated application can fade acne scars.
Things you'll need
Raw honey – 1 tbsp
Strawberries – 2
Mash strawberries using fork or blend it. Then add honey and some warm water. On other side prepare yourself by washing it with warm water, so the pores open up. Pat dry and apply the mixed facial mask evenly. Leave it for 15 minutes then rinse it off. Avoid squeezing and pressing of pimples.
Related: Honey and lemon face mask
3. Strawberry Face Scrub
Increasing levels of impurities and pollution gets accumulated over the skin. This results in dry and disease prone skin. Using strawberry face scrub you can remove all those impurities and simultaneously make your skin healthy. Alpha hydroxyl acids in strawberry with its exfoliating quality cleanse all impurities. Slice strawberry and start rubbing over your face.
Also read: Tomato face scrub
4. Chocolate Strawberry Face Mask
You'll find a product with this mixture. Either opt for those products or mash few strawberries and coco-powder with raw honey. After mixing it thoroughly apply the facial mask over prewashed face.
5. Strawberries and Lime Face Pack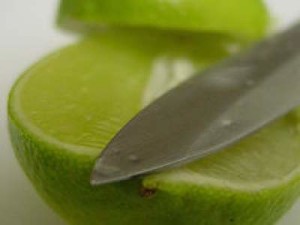 Assorted properties in lime can be used to remove skin tan. Mix strawberry with lime juice and apply it over face. Repeated application can lighten marks and scars. Follow the procedure mentioned in above recipes.
Conclusion
Strawberry face mask for glowing skin can tighten your skin and hydrate it. Apart from applying it topically you can consume it. It's known as queen of fruit for its health benefits. Mix it with your favorite ingredients or try without mixing it.