Itching, scaly patches accompanied by inflammation are common signs of eczema. Here you'll learn how to use flaxseed oil for eczema.
Renowned for its numerous health and cosmetic benefits, flaxseed oil is an abundant source of omega-3 fatty acids. Experts say that alpha-linolenic acid residing in flaxseeds exhibit more anti-inflammatory property than fish oil.
Apart from eczema, you can use this oil to reduce weight, treat constipation, get rid of cellulite, enhance healthy heart functioning and reduce chronic skin ailments.
Jump to: How to Use Flaxseed Oil
What Causes Eczema?
Research is going on, but the main cause of this skin ailment is unknown. Experts say genetics, immune system and food you eat may trigger eczema flare-ups.
Let me disclose that regular use of flaxseed oil can't treat eczema permanently.
Yes, you read that correct. Experts say that you can't cure this chronic skin ailment.
Fortunately, you can reduce its symptoms. Steroid creams and home remedies can effectively reduce inflamed flare-ups.
Why shouldn't you use steroid creams?
I personally used them and they worked for me. But, chemical preservatives in these creams damaged elasticity of the skin, and soon after few weeks itching triggers.
On the other side, natural remedies are free from chemicals and they make the skin supple.
Is Flaxseed Oil Good for Eczema?
According to University of Maryland Medical Center flaxseeds have identical properties like fish oil.
Like mentioned above, 50-60 percent of alpha- linoleic acid in this oil exhibit more anti-inflammatory property than fish oil.
Like flaxseeds, its oil is packed with similar omega-3 fatty acids.
Dry itchy and scaly patches triggered by eczema can be reduced by alpha-linoleic acid.
Nutrients in flaxseed oil can improve the elasticity of the skin and its texture. (1)
Anti-inflammatory ability of this innate oil has a vital impact on skin ailments like eczema and psoriasis.
New scientific research back flaxseeds consumption to improve skin texture and treat wrinkles. (2)
Lignans packed in this home remedy help to improve the appearance of the skin and reduce DHT levels in the body.
Lignans also show antioxidant activity, which helps to thwart free radicals.
Studies back that internal consumption of omega-3 fatty acids residing in fish oil and flaxseed oil can effectively treat skin ailments like psoriasis and eczema.
As this natural remedy isn't associated with any side-effect, you can give it a try.
How to Use Flaxseed Oil for Eczema?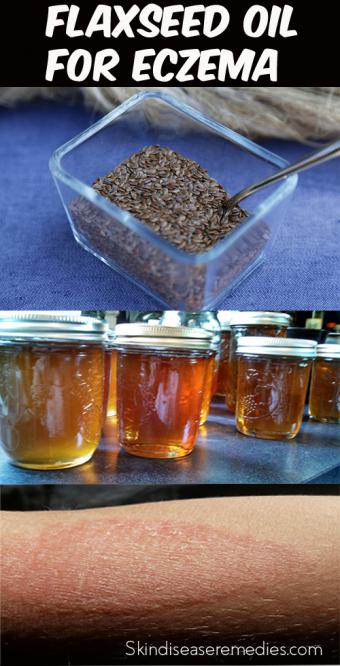 Take this supplement internally or regularly massage it on eczema affected skin, you'll be benefited.
Few experts say topical application of natural ingredients will benefit more to the skin than its internal consumption.
You can opt both ways and reap nutritional properties in flaxseeds. Below listed are various ways to use them.
Note: Make sure you aren't allergic to flaxseeds or any other ingredients used in below recipe.
#1 Flaxseed Oil to Treat Eczema
Wash eczema affected part with water.
Don't scratch while washing the skin. Hot water may trigger itching, so stay away from it.
Pat dry with a soft cloth and apply flaxseed oil over the eczema flare-ups.
Let it dry naturally.
#2 Flaxseed Oil and Avocado Oil
Both oils are packed with exceptional nutrients. Moisturizing and anti-inflammatory properties combine to restrain infection.
Vitamin rich avocado oil can help for easy penetration through the skin and also reduce inflammation.
After washing your skin, pat dry and apply flaxseed oil on the skin. Immediately, massage with a small amount of avocado oil.
The healing ability of these two oils will lighten the appearance of eczema, psoriasis and other injuries. (3)
#3 Raw Honey and Flaxseed Mask
If you don't have flaxseed oil, no problem you can use its seeds as a face mask.
Benefits of raw honey need no explanation, one acne affected teenage girl used raw honey to treat acne.
Packed with healing, moisturizing, antibacterial, anti-inflammatory and antimicrobial properties honey is one solution for all ailments.
Take 3 tablespoons of flaxseeds and grind them into powder.
Add 1 tablespoon of raw honey to it.
You can also add some warm water to get thick paste like consistency.
Apply the face mask over prewashed skin and leave it to dry for 15-20 minutes. (4)
#4 Flaxseed Face Mask
This is the simplest version of above recipe.
Grind 1 tablespoon of flaxseeds into a fine
Add required amount of distilled water to the powder to obtain a thick
Wash your face or eczema-affected part with water to remove impurities.
Pat dry using a soft cloth and apply the mask evenly.
For 15 minutes leave the mask on the skin.
Rinse it off with water.
Optionally, you can apply natural moisturizers like rosewater to avoid itching or irritation.
#5 Flaxseed Oil
Like its seeds, you can include flaxseed oil to your diet and treat eczema.
As this oil can interact with other medication you're regularly using, talk to your physician before ingesting flaxseed oil. (5)
Check this article to know more about the dosage of flaxseed oil.
You can mix flaxseed oil with juice or green tea. But, don't expect it to taste good.
Another way to ingest flaxseed oil is to drizzle the oil on food or salad. Alternatively, you can mix flaxseeds with cereals, salads or soups.
Important Tips for Using Flaxseed Oil for Eczema
Experts say that excess consumption of flaxseed oil may lead to gastrointestinal issues.
Flaxseeds may lead to premature birth, so pregnant women must avoid this oil.
You must consult a doctor before ingesting this oil and patch test prior to its topical application.
Food substances that may stimulate eczema must be avoided. (Source)
Cosmetic creams that include chemical ingredients must be avoided.
Avoid scratching and peeling the dry skin.
Regularly moisturize the skin with flaxseed oil or almond oil.
Take food that can fight eczema. (Source)
What's your take on flaxseed oil to treat eczema? Share your views in comments.