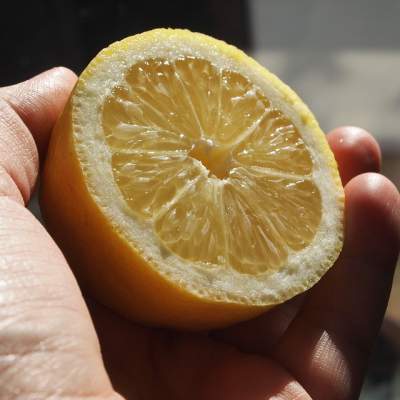 Having dark and rough elbows and knees is not abnormal. Dead skin cells around elbows and knees absorb less moisture resulting in rough and black skin. Repeatedly moisturizing those areas with natural moisturizer will show you some positive results.
Though they don't accompany with any serious health issue, neglecting can worsen your skin. So how to get rid of dark knees and elbows fast? I know you're impatient, but when you're looking for long lasting and zero side-effects remedy you must prepare yourself to wait for results.
Dead cells and dirt accumulated over elbows and knees must be exfoliated using below mentioned remedies. However, stay away from allergic ingredients.
5 Remedies to Get Rid of Dark Knees and Elbows
Not that you're confined to these remedies, these are my top home available remedies with which you can treat dark knees. You are free to try other innate remedies until you're not allergic to them. Let's get started.
1. Lemon for Dark Knees
Bleaching property in lemon juice helps to lighten the skin fast and effectively. But in some cases where the skin is sensitive, lemon juice may leave the skin dry and sensitive to UV rays. It's recommended to wear sunscreen if you've any issues or limit lemon juice use.
Squeeze sliced lemon juice into equal amount of water. Mix thoroughly and spray it on knees and elbows. Using cotton ball rub the surface and rinse it off.
Alternatively, rub sliced lemon half over the dark surface repeatedly. Follow with a natural moisturizer and stay indoors if you've sensitive skin.
2. Olive Oil and Lemon Juice
To decrease the concentration of lemon juice, mix it with olive oil or any other essential oil. Olive oil is renowned for its moisturizing properties and lemon for its exfoliating agents.
Slice and squeeze 2 tbsp of lemon juice in 1 tbsp of olive oil. Mix 4-5 tbsp of salt to the lotion and apply over knees and elbows. Granular property in salt helps to wipe dead cells accumulated over the surface. As mentioned above follow with a moisturizing agent like Jojoba oil or Argan oil after using lemon juice.
3. Olive Oil and Sugar
Using these both ingredients you can easily form a scrubbing mask. Mix equal quantities of olive oil and sugar in a container and apply it over prewashed area. Apply slight pressure while rubbing over the dark knees to remove dirt and dead cells.
4. Coconut Oil and Lemon Juice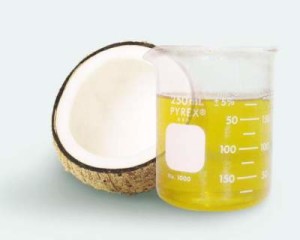 Research carried out on coconut oil concludes its effectiveness in moisturizing and killing bacteria. When you neglect injuries on dark knees and elbows, bacteria invade and may worsen the situation. Applying coconut oil will help to fight those infectious bacteria.
Mix 1 tbsp of coconut oil in 1/2 tbsp of fresh lemon juice. Using cotton ball rub the mask over affected parts. Repeat the process daily or thrice in a week to see instant results.
5. Baking Soda and Raw Milk
This is the ultimate remedy to get rid of dark knees and elbows. Bleaching agent in baking soda effectively wipes out dirt, dust and dead cells over the skin. But this may dry out your skin, so limit its use or extensively apply moisturizer.
Apart from knees and elbows, repeated pressure on ankle may leave the skin thick and dark. Above mentioned home remedies can be used in all cases.
Lets us know what remedies you use to get rid of dark knees fast?