Flowers have significant contribution for beautiful skin. In particular, petals of calendula flower have been used to heal minor wounds and nourish the skin.
Also known as pot marigold, calendula benefits for skin are abundant. Its anti-inflammatory and antimicrobial activities reduce inflammation and restrain bacterial infection. Besides being an excellent home remedy, calendula flowers can be added to salads, food and sweets for its brilliant color. In the Hindu world flowers are used to decorate statues of Gods and high personalities.
Calendula flower looks like this (below image)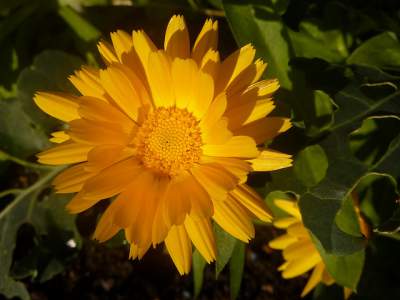 Benefits of Calendula for Skin
Calendula flower is native to Asia, Western Europe and Mediterranean. Dried calendula flowers can be used to make tea to calm stomach pain. Because of its assorted properties, cosmetic industries incorporated this herb in their beauty products.
Calendula oil has similar medicinal properties like its flower. Calendula oil can be used topically to calm various skin ailments.
Below are few notable uses of calendula for skin.
Enhances healing:

Antiseptic and anti-inflammatory activity of this flower can promote fast healing of minor burns, wounds and injuries. Also regenerate new cells.

Reduce inflammation:

Skin ailments are accompanied by inflammation and swelling. Topically applying this calendula flower can relieve you from inflammation and promotes healing.

Anti-aging:

Nutrients in this herb can post pone premature aging wrinkles and infuse your skin with a glow.

Acne:

Topical application of calendula flower stops inflammation and reduce swelling of pimples. Its antimicrobial agents kill acnes bacteria.

Moisturizes your skin:

Topically applying this herb may lock moisture over your dry skin.

Treats chronic skin diseases:

Assorted nutrients housed in calendula flower can gradually decrease the effect of eczema, psoriasis and other chronic skin infections.

Cell Regeneration:

Active ingredients like iodine, carotene and manganese promote skin generation and fasten the healing process.
Calendula tea can be used to treat stomach ulcers, tooth infection and genital inflammation. Apart from using it for beauty, you can consider this herbal remedy to heal wounds, rashes, burns, insect bites and other minor skin problems.
Of all skin diseases, acne is the most common skin condition affecting about 80% of US population. Inflammation is the main cause of pimples or acne blemishes. Hormonal imbalance caused due to inflammation increases sebum production. Excess sebum gets clogged over skin pores along with dead cells and other impurities.
Anti-inflammatory agents can effectively reduce acne inflammation and also exfoliate your skin. As calendula flower has these essential properties it stands impeccable in treating skin ailments.
Not just acne, its antimicrobial properties can thwart any bacterial and fungal infection on minor injuries and wounds.
Eczema and psoriasis are two major chronic skin infections that can't be treated permanently. But, using calendula flower you can get relief from scratching.
Most skin problems are raised because of dry skin. Naturally, your skin is surrounded by natural oil called sebum that guards skin from infectious bacteria.
External factors like harsh chemicals, soaps and creams remove this natural moisture from the skin leaving it dry. Dry skin triggers itching, which makes favorable condition for a skin infection.
How to Use Calendula for Skin?
You can get calendula oils and soaps from drug store. Else you can get dried calendula flowers and add it to other innate ingredients like almond oil, olive oil or honey.
1/2 cup of dried calendula flowers
1 cup of extra virgin olive oil
Steep dried flowers in olive oil for 28 days in an air tight container and strain dried flowers using a cloth and use the olive oil over your prewashed face.
Another method to use calendula flower:
Take 2 tablespoons of fresh calendula flowers and leaves. Put the herb in a bowl of water and boil the water. After 15-20 minutes strain flowers and leaves using filter and cool the water.
Wash your face regularly with this water; as all nutritional values listed above are transferred to into this water your skin becomes supple.
You're free to use any innate ingredient with this herbal remedy. But make sure to patch test before trying it over the skin.
Important Note:
Though most natural remedies have no or less side-effect, repeated use of calendula flower may trigger allergic reaction over your skin. To avoid such irritants patch test on behind your neck or on hand.
Reach dermatologist if you experience allergic symptoms after using calendula flower on skin. Please share your views on calendula benefits for skin in comments.