With serums, creams and lotions, cosmetic industries are prospering with their promising products. But, most of them are incorporated with preservatives, chemicals and processed natural ingredients. A study carried out on 3 women concludes that one among them who age about 65 used rice flour face mask once in a month has excellent elasticity levels.
Regular use of beauty creams can actually make your skin lose elasticity and may result in premature aging says the report. (1)
With my quest for conventional beauty remedies I asked my mom about her beauty regimen. At those times they hardly care about the skin, but even now her skin is well hydrated and firm.
Beauty products which claim to turn your skin complexion actually do more harm by stripping natural moisture from the skin. Hydrated skin works well and restrains infectious bacteria. Doctors refrain from using few face creams as they may trigger contact dermatitis in sensitive people. (2)
Home remedies often include innate ingredients, which are packed with exceptional vitamins and minerals. When these vitamins penetrate deep into your skin, they enhance collagen production, improve elasticity of the skin and also protect you from various skin ailments.
Before you decide to try this face mask, let me jot down few more lines on this inexpensive face mask.
Rice Flour Face Mask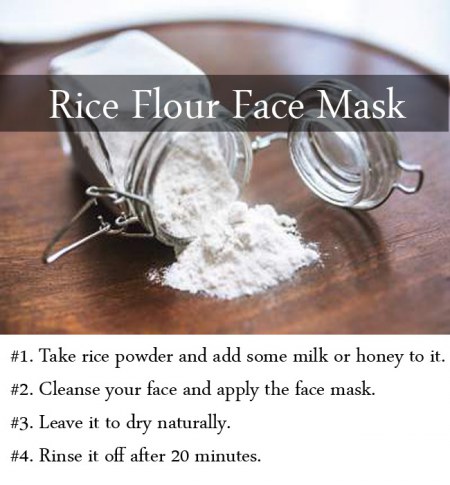 Also known as rice powder, rice flour is obtained from finely milled rice. In South India, we extensively use this powder to prepare snacks and in food. From centuries it has been used for cosmetic purposes in Asia. Because of its properties, Geishas in Japan use rice powder face mask which is why their skin remain porcelain smooth even after using heavy makeup.
Renowned for its hydrating activity, topical application of this face mask will help to get rid of dry skin.
Skin lightening property of rice flour makes it the best home remedy for radiant skin.
Disorders like acne and blackheads can be reduced by anti-inflammatory agents in this face mask.
Impurities and dead cells can be removed through exfoliating process of the mask.
High concentration of Para aminobenzoic acid can increase vitamins C level in the body and guards your skin from harmful UV rays.
Ferulic acid which exhibits antioxidant activity can fight free radicals and acts like sunscreen.
Allantoin shows anti-inflammatory property that helps to reduce inflammation and enhance healing.
Because of its distinct property to absorb excess oil from the skin, cosmetic industries include rice flour extracts in their products.
Unlike beauty salons that eat-up your precious time, rice flour face mask can be made and used in few minutes. You can play around by adding other natural ingredients with this mask.
How to Use?
Take rice powder or flour in a clean bowl and add distilled water to make thick paste. Alternatively it's recommended to use rosewater instead of water. Rosewater is known for hydrating and anti-bacterial properties.
If you've acne blemishes, include manuka honey or raw honey to rice flour facial mask.
Rice flour facial mask recipe
For those who want to have a detailed step by step process, go through this.
Take 2 tablespoon of rice flour and add 1 tablespoon of raw honey to it.
Mix thoroughly till you get thick paste like consistency.
If it looks dry, optionally add 1 tablespoon of green tea. (Hope you know how to make green tea :))
Before applying this inexpensive mask, you need to cleanse the impurities.
Wash your face with water or you can also use gram flour face mask for this purpose.
Pat dry with cloth and evenly apply the rice flour mask using brush.
Rinse the mask after 20 minutes.
You can drink remaining green tea, its excellent for skin and health.
If you don't find rice flour, don't worry. Take required amount of uncooked rice and grind them till you see fine powder.
Important Note:
Your skin shows what you eat. Don't stop having vitamin rich diet and drinking enough water. Home remedies like rice flour face mask works effectively when you care to hydrate from inside. This includes longer exposure to computer screens and TVs.