Official reports say that about 80 percent of people between the age group of 11 to 30 have acne breakouts. It's the most embarrassing feeling faced by teenagers. This write-up is about using clove oil for acne inflammation.
Luckily, I experienced mild acne which was treated after using anti-acne creams. But, one of my cousins tried almost all the available creams with no positive results. Then, he used natural home remedies over acne and it worked.
So the remedy worked for me may not work for you. You're advised to try natural home remedies initially, because even if they fail to treat acne it will not have any serious side-effects.
However, these home remedies lack strong scientific evidence to back them.  Interestingly, researchers from University of Buenos Aires conclude that clove oil is effective over E.coli bacteria.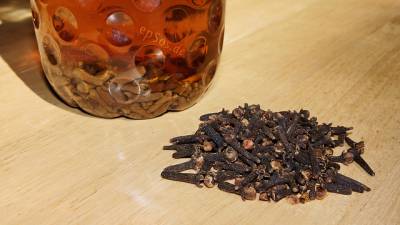 What Causes Acne?
The American Academy of Dermatology states that acne/pimples are mainly caused by inflammation which results in excess sebum, dead cells and P.acnes bacteria accompany sebum to form blackheads.
So the remedy must control excess production of sebum, cleanse impurities and thwart bacteria.
Your body undergoes hormonal changes during puberty, which results in acne inflammation.
Along with topical application, you must change your diet to combat acne. There are few foods that trigger acne blemishes.
Is Clove Oil Good for Acne?
Clove oil is extracted from dried clove buds. Since 2,000 years, Chinese have been using clove for its medicinal properties.
Assorted nutrients in clove oil enticed cosmetic industries to include it to their products. As it blends with other prominent essential oils, clove oil is extensively used in aromatherapy. The distinct aromatic smell by clove oil can be used in perfumes.
The Journal of Immunotoxicology, conclude that clove oil exhibits anti-inflammatory activity. Anti-inflammatory properties reduce acne inflammation and redness of pimples.
Clove is packed with eugenol that exhibits antibacterial abilities, which can effectively treat acne lesions.
Another study carried out to check its antibacterial effect concludes that, clove can efficiently restrains bacterial infection. (1)
Antioxidant agents residing in clove can kill free radicals and enhance healing.
Exfoliating ability exhibited by this oil can effectively remove impurities and lighten the appearance of acne scars on your face.
Anti-fungal, antiseptic and analgesic agents combined with other exceptional properties can effectively treat acne blemishes.
In 2001, "Girls Life" claims that people who used clove oil for acne gave positive feedback.
Vitamin A and C in this essential oil can enhance collagen production and fade wrinkles.
Ingesting clove is said to remove toxins from your blood and purify platelets and the blood.
Due to its antiseptic and soothing property, many cosmetic creams incorporate this ingredient to their products.
Other benefits of clove oil include reducing hair fall, conditioning hair, protection from insects and as a flavoring agent.
I personally use clove as a mouth fresher.
How to Use Clove Oil for Acne?
It's not recommended to use concentrated clove oil directly over the skin. You must blend it with other essential oils.
#1 Raw Honey and Clove Oil
Honey is renowned for its humectant and antibacterial properties, which can restrain bacterial infection.
Anti-inflammatory property exhibited by this natural ingredient can reduce redness and inflammation triggered by acne.
Assorted vitamins residing in honey can fasten the healing process and lighten the appearance of acne scars.
Blend 3 drops of clove oil with 6 tablespoon of raw honey.
Cleanse your face with water and pat dry.
Evenly apply the mixed mask over the face and leave it to dry naturally.
You can rinse it off after 20 minutes.
#2 Coconut Oil and Clove Oil
Renowned for its hydrating abilities and antibacterial properties, topical application of coconut oil can reduce acne inflammation.
It can wipe impurities, sebum and other dead skin cells piled on the skin.
In winter, you can mix clove oil with virgin coconut oil and apply it over acne.
This remedy may make your skin slimy in summer.
#3 Olive Oil and Clove Oil
Antibacterial and anti-inflammatory properties housed in olive oil can effectively thwart infectious bacteria and reduce acne redness.
Vitamin E present in olive oil helps to restore natural moisture on your skin and enhance collagen production to reduce wrinkles.
Topical application of this oil can effectively remove impurities and excess sebum.
Mix 1 part of clove oil with 10 parts of olive oil or any other carrier oil.
After washing your face with lukewarm water, apply the mask evenly or use it as a spot treatment on acne zits.
Leave it to dry naturally, and then rinse it off.
#4 Moisturizer and Clove Oil
Choose your favorite moisturizing cream with non-comedogenic ability and mix it with clove oil.
Your moisturizing cream will help to dilute clove oil and make a barrier on the skin.
Wash your acne affected skin with water and pat dry.
Mix 1 drop of clove oil with required amount of moisturizing cream and oil-free cleanser.
Apply the obtained mask on the face and allow it to dry naturally for 15 minutes.
Rinse it off with normal water.
#5 Foundation and Clove Oil
If you're a make-up freak, then mix 1 drop of clove oil to your foundation and apply it on your face.
However, this method is not so recommended by beauty experts.
Important
As clove oil is very strong, it can damage your sensitive skin. You must dilute it with carrier oil.
If you experience irritation, stop using it and reach dermatologist.
Though you can use clove oil as a spot acne treatment, take care while using it.
As an alternative remedy you can use lavender oil, jojoba oil, tea tree oil and raw honey to treat acne.
Apart from using clove oil, you must avoid foods that trigger acne blemishes.
Studies also show that stress trigger skin ailments like acne and eczema. So, try to avoid it.
If you ever used clove oil to treat acne, then let us know your experience in comments.