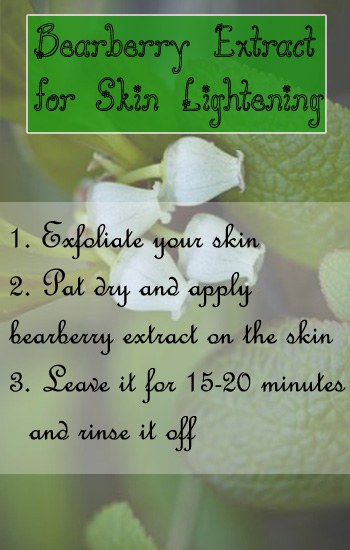 Bearberry extract became cosmetic industry's darling ingredient when Dr.Oz unveiled its benefits to fade aging wrinkles. Many experts support bearberry extract for skin lightening.
This natural remedy is renowned for treating urinary tract infection and illness. Its antiseptic and antioxidant activities are beneficial for skin as well.
What are Benefits of Bearberry Extract?
Many beauty products started incorporating this natural ingredient to increase the effectiveness of their product. Bearberry extract comes from leaves of bearberry shrub.
Alpha-arbutin an active ingredient housed in bearberry can effectively lighten skin discoloration.
Polyphenolic compound residing in this natural ingredient exhibit antioxidant activity that can thwart free radicals.
Free radicals damage cell membrane and leads to wrinkles.
Topical application of this remedy will save your skin from harmful UV rays.
Antiseptic property fastens the healing process of the damaged skin.
Like synthetic skin lightening components arbutin can actively lighten skin by inactivating tyrosinase, an enzyme responsible for melanin production.
Anti-inflammatory properties packed in its leaves can treat acne and other inflamed injuries.
Antibacterial and other assorted nutrients can treat urinary tract infection, kidney and bladder issues.
Not just skin lightening; this innate ingredient can bring more perks to your skin.
Your skin exposed to a great range of impurities, which get accumulated over it. Apart from this, excess exposure to UV rays and other internal factors stimulate production of melanin leading to dark spots.
Natural remedies like bearberry extract for skin lightening can inactivate production of excess melanin and restrain bacterial infection.
A study was carried on 80 women, they were asked to use 1 percent alpha arbutin. After a month, researchers found improvement on participant's skin. Thus it's confirmed to be an effective skin lightening ingredient.
Risk of using sunscreen creams
Its looks catchy and simple to use sunscreen cream to guard form UV rays. But, sunscreen creams also include harmful chemical ingredients that can strip natural oil from the skin.
They can also block vitamin D, which is responsible to prevent breast and other cancers. Bearberry extract allow you to enjoy the sun and protects your skin from aging signs.
How to Use Bearberry Extract for Skin Lightening?
To make your work easy, cosmetic industries started collecting pure bearberry extract. But, experts recommend blending it with other lotion or cream, before applying on the skin.
Cleanse your skin with water or rosewater to remove dead cells and other impurities.
Pat dry and apply bearberry extract blended with cream or lotion.
Leave for 20 minutes and then rinse it off.
Make sure you don't opt for chemical incorporated creams. It's recommended to patch test before applying it on the face.