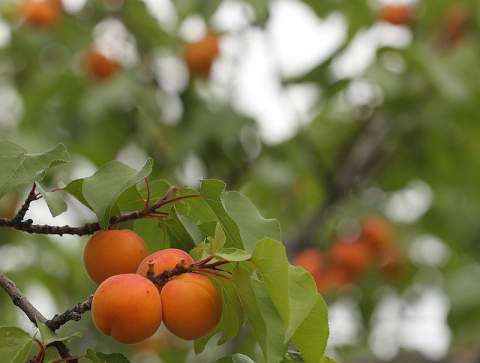 Due to abundant benefits of apricot oil for skin and health, many cosmetic industries started incorporating this odorless oil to their products. This oil derived from kernel or seeds of apricot.
Because of its versatile characteristics, you can use the oil for multiple purposes. You can include apricot powder in soups, vegetables, fruit juice and curries.
Here am going to discuss about its beauty benefits.
Why Apricot Oil for Skin?
We humans love to have gorgeous looks, which isn't possible without soft and flawless skin. Your skin's elasticity plays vital role in making you look young. There are few factors which can't be stopped or prevented, like age.
Wrinkles and grey hair are signs of experienced and elderly person. But, not everyone will like to have them in early stages of life. Impurities and unhealthy lifestyle dehydrate the skin and affects its elasticity resulting in fine lines.
Using cosmetic creams to obtain that youthful skin is not a good idea, because studies show that repeated use of chemical ingredient products will damage elasticity and the natural moisture surrounding the skin will be striped.
Natural remedies are housed with essential nutrients that will enhance collagen production, hydrate the skin and thwart infectious bacteria. Unlike cosmetic products, innate ingredients have no or less side-effects.
Your skin will love to absorb this vitamin rich oil.
Amazing Benefits of Apricot Oil for Skin
#1 Nourishes
Nutrients like vitamin A, E and omega-6 fatty acids residing in apricot kernel oil help to balance the moisture on the skin and enhance collagen production. It nourishes the skin to make it free from chronic ski ailments like eczema with anti-inflammatory agents.
Rich concentration of gamma linoleic acid in this oil helps to make the skin firm and supple.
#2 Massage
Your skin is exposed to lots of impurities and subjected to strain. Properties in apricot oil get easily absorbed into the skin and relive from stress, pain and inflammation. Take required amount in your palm and massage over the skin evenly.
#3 Apricot Scrub for Acne
Acne is the most common skin ailments experienced by 90% people around the world. It's common in teens and adults. Experts say that inflammation, dead cells and inflammation to be main culprits of acne blemishes.
Massaging with apricot face scrub will remove dead cells and its anti-inflammatory activity reduces inflammation. You can use Apricot oil to heal pimples and to lighten their appearance.
#4 Hydrates Your Skin
Most chronic infections are associated with dry skin. When the skin loses its natural moisture, irritants attack and trigger ailment. Eczema, psoriasis and ringworm are among few skin disorders which make the skin dry and result in rigorous itching.
When you hydrate the skin from outside by massaging with apricot oil, it relieves from itching and thwart infectious germs.
#5 Fade Wrinkles
Collagen is vital element for firm and flawless skin. Due to external and internal factors, it gets damaged. Vitamin E and A in apricot seed oil enhances collagen production, hydrate the skin and fade wrinkles.
Hydrating is an important aspect for making the skin free from premature wrinkles. Apart from this, you're advised to hydrate the skin from inside by consuming vitamin rich diet.
There are many other benefits of apricot oil for skin and health including treating heart, asthma and cancer. Note that these claims aren't backed by scientific evidence.
How to Use Apricot Oil?
Get organic apricot kernel oil and start massaging over prewashed face and hair. But, its recommend to blend any carrier oil with this oil. While massaging hair, mix required amount of coconut oil to it.
On face, cleanse the face using gram flour or just splash the water. Mix olive oil or almond oil to apricot kernel oil and apply it over the face.
As a homemade scrub, mix brown sugar with apricot oil and olive oil. This face scrub will exfoliate the skin and helps to shed dead skin cells.
Note: Patch test the ingredient before adding it to your beauty regimen.
Did you ever use apricot seed oil over skin? Let us know your thoughts.