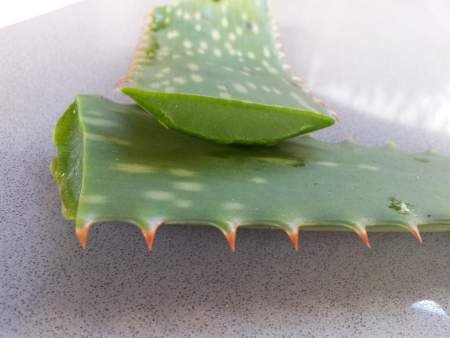 Inflammation, dry and scaly patches are common signs of this skin ailment. In this article, you'll learn how to use aloe vera for scalp psoriasis.
Scaly patches over the scalp may look like dandruff, but it's not. Anyway, you must consult a dermatologist to confirm the ailment.
Reports claim that nearly 2.2% of adult population is affected by psoriasis. According to Psoriasis.org, about 50 percent people with this chronic skin ailment have it on their scalp. (1)(2)
It not just ruins your physical appearance but shatters your self-confidence. Psoriasis creates difficulties in marriage also. Steroid creams and medications prescribed by dermatologists help to some extent and they really reduce inflammation.
But, a chemical ingredient in them strips natural moisture over the scalp. Most people opt for natural remedies instead of using such chemical incorporated creams.
Note: This doesn't mean that you must stop using them. Natural remedies can be used as an alternative.
Is Aloe Vera Good for Scalp Psoriasis?
Renowned for its sticky nature and bitter taste, aloe gel exhibits medicinal properties.
Moisturizing ability residing in this gel help to reduce itching and inflammation caused by psoriasis.
Antibacterial, antifungal and anti-inflammatory abilities housed in this gel restrain infectious germs.
Sticky nature locks the moisture over your scalp and reduces swelling of rashes.
Vitamins and minerals residing in this innate ingredient form a protective layer over the scalp.
Assorted properties in aloe gel penetrate deep into the skin for cell regeneration and to reduce the thickness of psoriasis rashes over the scalp.
Vitamin A residing in aloe gel boosts immune system and inhibits bacterial infection.
Vitamin C enhances collagen production and improves the elasticity of the skin.
Aloe vera gel consists of salicylic acid, which exhibits anti-inflammatory and antiseptic properties.
Internal consumption of aloe gel helps to eliminate toxins from the body and help to improve the digestive The digestive system directly impacts on your overall health.
Amino acids, fatty acids, minerals and enzymes packed in aloe vera gel together help to treat scalp psoriasis.
How to Use Aloe Vera for Scalp Psoriasis?
Studies back healing ability of aloe gel. Including burns, topical application of this colorless gel can reduce skin inflammation. (3)
You can use it internally and topically, but to treat scalp psoriasis experts recommend the external application.
Below are given different recipes, go with your favorite method.
#1 Aloe Vera Gel
Wash your scalp with water to cleanse impurities and scaly patches. Be gentle while washing, because you may irritate psoriasis rashes.
Avoid hot water, because it triggers itching. Towel dry your hair and gently massage with aloe gel.
It's good to have your own aloe gel from your back yard. Wash the leaf and cut the thorny part using a knife. Also, peel the skin and collect the gel in a bowl.
Apply the oozing gel on the scalp and wrap your head with a shower cap to lock the moisture.
After 15-20 minutes rinse it off with water and optionally apply a natural moisturizer.
#2 Aloe Vera and Coconut Oil
Moisturizing, antibacterial and antifungal properties exhibited by coconut oil can effectively hydrate psoriasis patches.
To reap all nutrients from coconut oil, experts recommend extra virgin coconut oil.
Take ½ cup of extra virgin coconut oil in the solid
Melt it till you obtain liquid oil, after cooling add 1/3 cup of aloe vera gel to it.
Mix well and apply this hair mask over prewashed scalp.
Make sure you apply the mask on scaly patches or rashes as a spot treatment.
Leave it to dry for 20 minutes.
Rinse it off with water.
Avoid using cosmetic products over the scalp, because ingredients in those beauty items may irritate your scalp.
#3 Aloe Gel and Water
If you want to use aloe gel alone, but hate that extra stickiness, then mix some distilled water to aloe gel.
Take required amount of aloe gel.
Blend it by adding some distilled water to make it a smooth
Gently massage your psoriasis affected scalp with this hair mask.
After 20 minutes, rinse it off with water.
#4 Jojoba Oil and Aloe Vera Gel to Treat Scalp Psoriasis
Jojoba oil is a liquid wax that is prominent for cleansing and treating ailments like eczema and psoriasis.
The excellent thing about this oil is that it resembles skin's natural oil sebum. It tricks skin to produce enough sebum to balance the moisture over the scalp.
Anti-inflammatory and soothing abilities of this liquid wax can effectively reduce psoriasis.
Remove the skin of aloe vera leaf and collect its gel.
Blend aloe gel with a required amount of pure jojoba oil.
Apply the obtained mask over prewashed scalp.
Leave for 20 minutes and rinse it off with water.
You can leave it overnight if needed.
#5 Lavender Oil, Coconut Oil, and Aloe Vera Gel
Lavender is an essential oil that is prominent for its calming and soothing abilities. It is extensively used in aromatherapy to get rid of stress and migraine.
It also contains anti-inflammatory, anti-bacterial and hydrating properties that can help to reduce psoriasis rashes.
Take ¼ cup of aloe vera gel and mix it with ¼ cup of coconut oil.
Blend the ingredients till you obtain a smooth
Add 15 drops of lavender essential oil to the above lotion.
Now gently massage over the scalp and leave it to dry naturally.
You can use physician prescribed shampoo for cleansing.
Tips: Aloe Vera for Scalp Psoriasis
Only use pure chemical free aloe vera gel.
Pregnant women must consult a physician before trying these home remedies.
Patch test before applying it to the scalp.
Stop using it if you experience irritation after using any of the above-mentioned
Don't use these methods if you're allergic to any of its ingredients.
Include vitamin rich diet and avoid foods (alcohol, red meat, gluten, condiments, dairy products and junk food) that may trigger psoriasis.
Foods like cod liver oil, salmon, tuna fish, eggs, yogurt and orange juice can help to reduce scalp psoriasis. (4)
Burst stress for a beautiful skin. 🙂