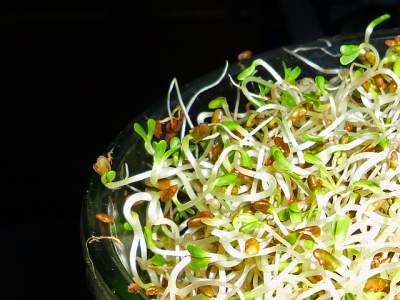 Seeing its exceptional nutrients, Arabs used this herb to feed their horses and they claim that it made animals swift and strong. The name Alfalfa is originated from Arabic name Al-fal-fa, mean father of all foods.
Wonder! How can a livestock feed help you improve your health? (Continue reading this article, to find out health benefits of alfalfa)
What is Alfalfa?
Alfalfa is an herb, which grows up to 80 cm and it blooms blue-violet color flowers from July to September. People use its leaves, sprouts and seeds to make medicines. Next time when you've sandwich check it out, you'll find leaves and sprouts of alfalfa. On other hand, its seeds are blended into smooth paste to use it over insect bites.
Also read: 7 Sorghum Health Benefits
Nutritional Value of Alfalfa
From centuries this herb has been used by Chinese and Ayurvedic experts. Lab tests conclude that alfalfa has significant nutrients that can reduce cholesterol and other health disorders.
Alfalfa deserves its name, wide range of minerals like iron, calcium, magnesium, sulfur, sodium, potassium, phosphorous, chlorine and silicon are include in it.
Exceptional vitamins such has vitamin E, C and K are housed in this herb.
Essential amino acids that your body needs are packed in alfalfa herb.
Because of it's assimilate nature; alfalfa is used with vitamin supplements.
Alfalfa Health Benefits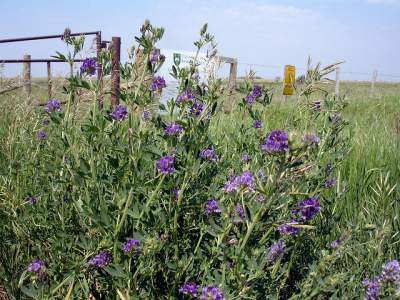 Removes Toxins:

Its antioxidant activity helps to thwart toxins from the body. (anyhow antioxidant and anti-inflammatory property lacks evidence)

Kidney Stones:

Reports suggest that leaves of alfalfa causes diuresis, which can treat kidney disorders like stones and prostate problems.

Lowers Cholesterol:

Saponins, compound in alfalfa plant had shown positive results in reducing cholesterol level in the body.

Treats Arthritis:

Tea made from alfalfa seeds can be beneficial in treating arthritis. Minerals in this seeds help in formation and strengthening of bones.

Reduce Diabetes:

Regular consumption of alfalfa sprout or leaves can reduce blood sugar levels in the body.

Treats Asthma:

Alfalfa leaves have been used to reduce asthma because of its anti-asthmatic activity.

Other alfalfa uses of health include:

Promoting healthy digestion, cleansing blood, reducing allergic reaction, aids in blood clotting and is natural treatment for hair loss.
Anyhow, most uses of alfalfa lack scientific evidence. Having a alfalfa herbal tea regularly will improve your over health.
Also read: 15 Benefits of Nutmeg for Health
Side-Effects of Alfalfa
Though nutritional benefits of alfalfa are enticing, excess use of alfalfa may damage red blood cells. It is just used as a supplement to lower cholesterol level. FDA avoids use of alfalfa sprouts for people with weak immune system.
Healthy adults will not have any serious side-effects from alfalfa leaves.
Where to Buy Alfalfa Leaves?
You can either get capsules from local drug store or order raw fresh alfalfa leaves Mountainroseherbs.com.
References: