It's not associated with any serious issue. But yes, you've a cosmetic concern with these tiger stripes. Stretch marks appear as a result of sudden weight gain, during pregnancy in women and in puberty. Your skin literally ripped apart at the deeper layers of dermis that leaves marks over epidermis, the upper layer of the skin.
You can find a long list of expensive creams to fade stretch marks. But among them coconut oil for stretch marks stands out to be my no.1 choice, because of 2 reasons, one is I don't have to rush to a store (most of us have it) and other reason is it comes with additional skin benefits (which I discussed here).
How it Works: Coconut Oil and Stretch Marks During Pregnancy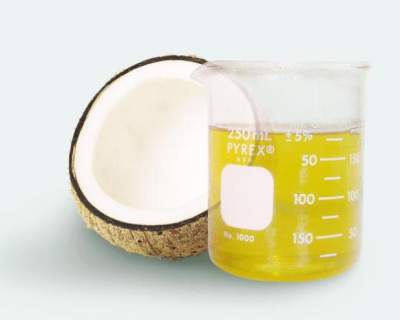 As discussed earlier, the real mark is made in dermis (the deeper layer of the skin), so you need a cream which can penetrate deep into the skin and heal. Most of them are expensive except innate remedies like coconut oil. Coconut oil is cheaper and because of its properties coconut oil able to reach deeper layers of the skin and enhance cell production to heal.
Over the time the upper marks (seen over the skin) gets faded. Excellent thing is you can use coconut oil to prevent stretch marks during pregnancy. Apply virgin coconut oil over stomach evenly so that it enhances collagen production, which in turn improves skin's elasticity and prevents stretch marks.
Note: This natural remedy may or may not work for you it depends, but you can give it a try as it's cheap.
How to Use Coconut Oil for Stretch Marks?
Vitamin E, K, fatty acids and moisturizing elements housed in coconut oil can make your skin wrinkle free and radiant. But unfortunately, most of them in stores are processed, means they have fewer nutrients. So experts suggest using virgin coconut oil as it contains all innate properties.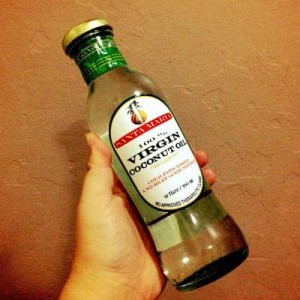 Best time to apply coconut oil is, after shower. In this state your skin is free from all dirt and ready to absorb the oil.
When your skin is still damp apply coconut oil over stretch marks or over stomach (if you're pregnant), on back and over knees. Yes, you can apply over the face and under eyes.
Leave it to dry naturally and rinse it off.
If you're going out in sun, then use a hat or cloth to cover the area. Alternatively, you can use Olive oil, Shea butter or avocado oil. Along with stretch marks coconut oil can treat cellulite problem.
You can use coconut oil over your body in various forms, one such natural way to wipe impurities off the body is here.
Other coconut oil benefits for skin
Studies prove that topical application of coconut oil will treat dry skin and is safe.
Regular application will make your skin free from scars and stretch marks.
Major skin diseases are associated with itching some or the other way. Applying coconut oil will give your instant relief from itching.
Assorted properties in this oil soften your skin and enhance collagen production leading to wrinkle free skin.
A special Remedy of Coconut oil, Shea butter and Almond oil for Stretch Marks
Ingredients
Coconut oil – 1/4 cup
Shea butter – 1/4
Almond oil – 3 tbsp
Calendula flowers – 1 tbsp (optional)
Boil calendula flowers at simmer and strain flowers. Add Shea butter and coconut oil to double boiler and stir both ingredients. Remove from heat and add almond oil and water collected after straining calendula flowers. Store in a jar and use it regularly.
Note: Consult your doctor before using any such home remedies while pregnant.
Have you ever tired coconut oil for stretch marks during pregnancy? What's your say on this?