Neem taste bitter but it has got significant role in Ayurvedic medicines. Renowned as 'One tree Pharmacy', its leaves, bark and seeds exhibit abundant benefits for your skin and health. Indians use this herbal remedy to treat various skin aliments including chicken pox and measles. Hindu scriptures documented importance of neem and is scared in Hindu culture.
Momentous role of neem face pack in treating various skin ailments enticed cosmetic market to incorporate neem oil into their creams. However, they include processed and refined material which lacks nutritional value.
Prefer homemade neem face pack for acne blemishes. Pimples are common in teenagers and adults. Due to increasing pollution and unplanned diet, your skin is paying the price. Excess sebum gets produced due to hormonal imbalance and on the other hand your skin sheds millions of dead cells every day. With these impurities, your skin pores are blocked leading to blackheads.
Experts say that inflammation is the main cause of acne. Anti-inflammatory, antiseptic and antibacterial properties residing in neem restrains bacterial infection and reduces acne inflammation. Not just acne, topical application of neem face pack will rejuvenate your skin and thwarts infectious bacteria.
Benefits of Neem for Acne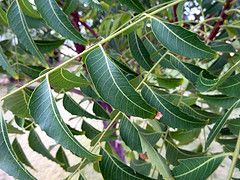 Dead cells and other impurities are exfoliated with nutrients residing in neem. It also tightens the skin pores making your skin firm.
Free radicals in your body damage cell membrane resulting in wrinkles and fine lines over your skin. Antioxidant activity of neem fights these free radicals and halts them from corrupting the membrane.
Anti-inflammatory agents housed in neem face pack can effectively reduce inflammation caused by acne.
Bacteria invade your skin to feed over excess sebum and dead cells over your skin. Antibacterial agents thwart these infectious bacteria and restrain them from multiplying.
Vitamin C helps to reduce aging wrinkles and enhance collagen production which improves elasticity of your skin.
Along with acne, topical application of neem face mask will treat chronic skin diseases like eczema and psoriasis.
How to Use Neem Face Pack for Acne?
One of the easiest ways to use neem leaves is, to boil 10-20 leaves in half liter of water till the leaves lose their color. Strain the leaves and collect water in a bottle. Using cotton ball apply the neem water over skin regularly.
As nutritional value of neem leaves are transferred to water it can soothe your skin, treat acne and reduce wrinkles.
I know you're looking for something more effective and complex. Below are different face mask recipes using neem.
1. Neem and gram flour for acne
Grab some neem leaves from nearby garden and wash them. Mash neem leaves to form smooth paste. Alternatively, you can use neem powder available in market.
Mix 1 table spoon of gram flour and 1 table spoon of curd to the paste.
Wash your face and apply the face mask over pimples.
Leave it for 15-20 minutes and then rinse it off.
Gram flour has cleansing properties, which can remove impurities accumulated over your skin. Whereas curd regulate excess production of sebum.
Also read: 3 DIY Gram flour Face Pack Recipes
2. Turmeric and neem for Dry Skin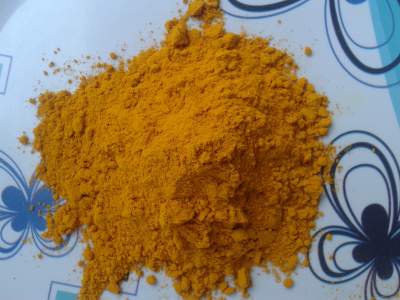 Both ingredients in this recipe are renowned for antiseptic and antibacterial properties. Add some whipped cream to make it a moisturizing face pack.
Take dry neem leaves and ground them into fine powder. Add 1 table spoon of whipped cream and 1/2 tea spoon of turmeric powder to it.
Wash your face with lukewarm water to open blocked skin pores. Topically apply the neem face mask over the face evenly.
Let the nutrients starting working over acne. After 20 minutes rinse it off.
3. Rosewater and neem face pack for acne
Crush 2-3 table spoons of dried neem leaves into fine powder.
Add 2 teas spoons of rose water and mix well.
Optionally add few drops of lemon juice to the paste.
Rose water is renowned for antibacterial and antiseptic properties and can effectively reduce pimples.
Apply this face mask over prewashed face evenly and rinse it off after 20 minutes.
Before you add innate ingredients to neem face mask, make sure you aren't allergic to it. If you see any allergic reactions consult your doctor immediately.