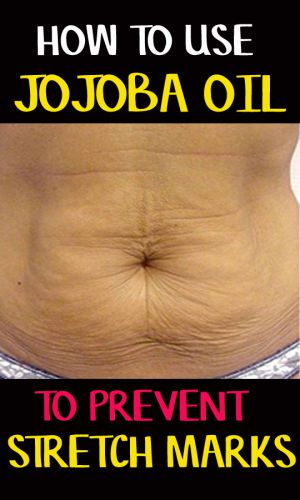 Everyone desire to have aesthetic appearance, youngsters are going crazy for media promoted products. Fortunately, you've home remedies, in this article you'll learn about benefits of jojoba oil for stretch marks.
People are transforming themselves by quitting junk food and eating healthy, they are trying to eat as healthy as possible so that they can stay away from health problems, but one problem is there that annoys everyone and that is "stretch marks" on the body.
After putting so many efforts when we finally notice change in our body, we feel motivated and happy but we keep on finding ways to get of those unwanted stretch marks. So, today I am going to tell you about how you can use Jojoba oil for stretch marks.
Though there are many oils that can help us in getting rid of stretch marks and you can take the treatment for it too but getting rid of stretch marks slowly and naturally will be more helpful and your skin will remain good too.
You must be wondering that how Jojoba oil is beneficial for stretch marks. I will mention that very soon, but before it let us see the main cause of stretch marks on our body.
What Causes Stretch Marks?
Because of stretch marks, we are not able to wear good clothes because we do not want anyone to see our stretch marks and it is not possible to get rid of it in one day or two. Below are the top 5 reasons of stretch marks.
Pregnancy: While pregnancy, almost all the women experience stretch marks on their body because the skin stretches as the development of baby is going in the womb. The skin stretches in number of ways which causes stretch marks.
Weight Loss / gain: If your body goes through sudden gain or loss in weight, stretch marks appear. These stretch marks are seen on the fatty area of body like shoulders, hands, thighs and belly.
Some pills, corticosteroid creams are the reason behind stretch marks because it decreases the ability of skin to stretch.
Some of the gland disorders like Cushing's syndrome, marfan's syndrome and ehlers-danlos syndrome are the reason behind stretch marks.
Gym: If you go to gym and do exercises regularly then you can experience stretch marks on those parts of the body which is stretched most while doing exercises.
Having these much amazing benefits, let us see what jojoba oil actually is. Extracted from nut of an indigenous American shrub, jojoba oil is a liquid wax which is helpful for skin, hair and our body.
Is Jojoba Oil Good for Stretch Marks?
Since, we are talking about how you can use jojoba oil for stretch marks; one of the main questions that will arise in your mind is, about the nutrients in jojoba oil that can prevent stretch marks. How it is beneficial compared to other oils?
Mainly, women face stretch marks post pregnancy and jojoba oil is specially made for women who want to get rid of stretch marks after their delivery.
Jojoba oil for stretch marks is really good but it is also highly beneficial for skin. Jojoba oil plays an important role as a remedy because it moisturizes our skin.
Apart from skin, if you want your hair to grow long and strong then you must use jojoba oil and do massage with it.
Jojoba oil can also save you from acne and you will be happy to know that you can also use jojoba oil for getting rid from chapped lips. You can use it as lip balm.
Rub small amount of jojoba oil every night on your face, your skin will get smoother day by day.
Major benefit of jojoba oil is, it helps you to get rid of stretch marks.
Related: How to use Emu oil for stretch marks?
How to Use Jojoba Oil for Stretch Marks?
When you apply jojoba oil on your skin it moisturizes your skin where stretch marks are available and open the pores of your skin.
According to doctors, jojoba oil is so much helpful that it is used even in manufacturing of shampoos, lipsticks, cleansing products and more.
You can mix up jojoba oil with many things or you can apply it directly on the stretch marks. It depends on your requirement.
Remember that everything using in wrong way or in excess manner can cause problems, so here are some precautions you have to take while using jojoba oil:
Never leave the bottle open in high temperatures for example in freezers, cars or direct sunlight.
Never heat or boil jojoba oil otherwise all it's oxidation will evaporate and it will have nothing.
Never use oil while bathing. Apply it after half or 1 hour of shower.
Once applied on skin, try not to keep that much portion open. Protect it from sun light.
Prevent your nose and eyes while applying.
Keep it at safe place so that your kids cannot reach to it.
12 DIY Recipes to Make with Jojoba Oil
As we are talking about jojoba oil for stretch marks, here are the top 12 recipe you must know so that you can use jojoba oil for other things also.
#1 Jojoba oil with Moisturizer
The moisturizer includes oilatum, balnuem, medi oil bath oils which help you to get rid from dryness. So, if you want to use jojoba oil with moisturizer, below are the steps.
Process: Take few drops on your palm, rub it and apply it on your body. Your skin will look beautiful and glowing.
You can even use it for removing your makeup.
#2 Jojoba Oil with Conditioner
Process: If you want your hair to grow long and faster, take some jojoba oil on your hand.
Mix with few drops of conditioner and keep it for 2-3 minutes.
Massage your scalp for 2-5 minutes. You will love your hair the next day.
#3 Jojoba Oil with Night Cream
Process: if you apply cream on your face before sleeping, mix few drops of jojoba oil.
Blend both cream and jojoba oil in such a way that it is well mixed.
Massage your skin in a circular motion for 5 minutes.
#4 Jojoba Oil with Aloe Vera

As you know aloe Vera is used in many medicines as it includes Vitamin A, C, E, B1, B2, B3, B6 and B12. Below are the steps you need to follow if you want to use jojoba oil with aloe vera.
Process: Take little bit amount of aloe vera gel in a bowl.
Drop few droplets of jojoba oil and mix well.
Apply it on your stretch marks and massage for 2-3 minutes.
Wash it after 10 minutes.
#5 Jojoba Oil with Almond Oil
Because of the easiness through which almond oil absorbs into our skin, it is recommended to use jojoba oil with oil. How? Below is the recipe.
Take ½ cup of almond oil.
Add 1/4th cup of jojoba oil.
Add aloe vera gel.
Mix well and apply it on your skin or hair.
Leave for 15 minutes and wash.
#6 Jojoba Oil with Balm
Take little amount of you lip balm.
Take few droplets of jojoba oil and mix well.
Apply around your lips for keeping your lips smooth.
Take 1 table spoon of castor oil and 1 tablespoon of castor oil.
Mix the mixture well and apply it on the stretch marks for 10 minutes.
Cover it with a hot cloth and leave it for 20 minutes.
Remove the cloth and wash the area.
Do it daily.
#8 Jojoba Oil with Lemon
Lemon includes thiamin, riboflavin, pantothenic, iron and magnesium and it has many benefits. So, lemon is surely going to help you when mixed with jojoba oil.
Take juice of half lemon in a bowl and 1 teaspoon of virgin olive oil.
Apply the mixture on the area having stretch marks and leave it till it dry.
Wash it with warm water after 10 to 20 minutes.
#9 Jojoba Oil with Coffee Grounds
Take 1 tablespoon of coffee grounds and add jojoba oil in it.
Mix the mixture well and apply on your stretch marks.
Leave the mixture on your body for 20 minutes.
Wash it after 20 minutes.
You can repeat this process 2-3 times per week and you will see the result.
#10 Jojoba Oil with Turmeric
Turmeric is also known as curcuma longa is a member of ginger family which is used to heal wounds and for getting rid of fever and infections. It includes large amount of curcumin because of which it can be used in many drugs.
As you all know, turmeric plays an important role in medical field, it can help you to get rid of stretch marks too.
Take 1 tablespoon of jojoba oil and 1 teaspoon oil of turmeric.
Apply the mixture in the stretched area and leave it for whole night.
You can even add 1 tablespoon of orange juice too.
Repeat this daily.
#11 Jojoba Oil with Cocoa Butter
Cocoa butter is also known theobroma oil and it is made up of cocoa bean which includes amazing aroma.
Cocoa butter itself is having lots of benefits as it soothes your skin, so take 2-3 tablespoon of cocoa butter and add 1 tablespoon of jojoba oil.
Apply it on the area and leave for few minutes.
Wash it well.
Also read: Is Cocoa Butter Good for Stretch Marks?
#12 Jojoba Oil with Honey
Honey is known for weight loss when you take it with warm water as it is natural and does not contain any extra chemical.
If you want to get rid of stretch marks, below is the recipe you need to make with honey.
Take 1 tablespoon of oil and mix it with honey and let it mix well.
Apply it on the stretched area and wash it well.
I hope you all will get rid of stretched marks very soon and can wear whatever you want to without feeling embarrassed.
Try the above-mentioned recipes of jojoba oil for stretch marks for fast and better results.
Along with topical application of natural ingredients, beauty experts recommend foods packed with vitamins that can improve overall healthy functioning of the skin.
Hydrate your skin from the inside by ingesting water rich fruits and vegetables.