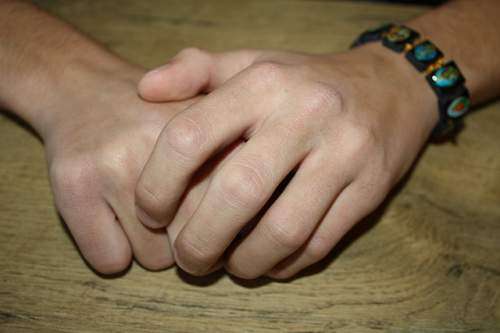 Impurities aren't the mere cause of dark knuckles; dermatologists hold ailments, dry skin, and obesity for these sinister patches. So, how to lighten dark knuckles on toes and hands?
Experts say that scrubbing along can't help to clear black knuckles. Along with exfoliating, you must pamper hands and feet just like you do for your face.
What Causes Dark Knuckles on Hands and Feet?
Dry skin, which can be caused by excess use of cosmetic creams, harsh chemicals and long exposure to water.
Obesity is harsh for your skin. It causes dark patches over knuckles and neck.
Dirt piled over the fingers isn't the main cause of dark knuckles. Even if you repeatedly scrub you won't find a positive result. Instead, the condition may become worse.
Mechanical friction on the skin makes it rough and darker; in some cases, you may experience both.
This doesn't mean that you shouldn't cleanse your hands.
Along with exfoliating, you must moisturize your skin, change your lifestyle, apply sunscreen while going out and have patience.
How to Get Rid of Dark Knuckles on Toes and Hands – Basic Guidelines
If you'd like to bleach dark knuckles fast and wish them not to appear again, follow below steps regularly.
Be Careful – Excess washing or scrubbing will irritate your skin. Instead be gentle and use a pumice stone to cleanse dead cells accumulated over knuckles. You can use natural exfoliating recipes to clear black knuckles.
Hydrate – Most skin disorders are associated with dry skin. Moisturizing regularly will help your skin to function normally. You can opt for natural moisturizers like jojoba oil, olive oil, almond oil or go with your favorite cosmetic cream with no harmful chemicals.
Protect from sun – Excess exposure to sun rays may turn your skin dark, because of a pigment known as melanin. Wearing sunscreen cream will block these harmful rays and prevent further darkening of the skin.
How to Lighten Dark Knuckles on Toes and Hands Fast – Home Remedies
Though I mentioned fast, these home remedies can't bleach your dark knuckles overnight.
Actually, there is no such cream that can magically lighten dark knuckles within hours. However, regular application of these ingredients will certainly help to clear black knuckles at the earliest.
To lighten severely dark knuckles, prefer the one recipe that works great with your skin type. Along with this, do regular exercise and follow a healthy lifestyle.
#1 Exfoliating to remove dark patches on knuckles
If the main reason for your black knuckles is dead cells, then a good exfoliating recipe will do wonders.
Take sugar and lemon juice in required quantity.
Mix them and apply it to fingers and toes.
Dilute lemon juice with some water, if you've sensitive skin.
For 10 minutes scrub gently and rinse it off.
Apply moisturizer after applying this recipe.
Excess use of lemon juice may strip natural moisture from the skin. So avoid it or dilute it with water.
#2 Glycerin and Rose Water to Get Rid Dark Knuckles
Both ingredients are prominent for healing and hydrating the skin.
The excellent thing about these ingredients is that they are packed with all essential nutrients that your skin needs for healthy functioning.
Take required amount of glycerin and mix rose water to it.
Apply it over dark knuckles and leave it to dry naturally.
Alternatively, for bleaching effect, you can mix baking soda with this lotion.
Patch test before using this recipe to avoid irritation due to baking soda.
#3 Honey and Lemon Juice to Bleach Dark Knuckles
Benefits of honey are documented in religious and historical books. Humectant ability of raw honey helps to get rid of dry skin and its healing ability makes your skin soft.
Mix 1 tablespoon of raw honey with 1 tablespoon of lemon juice.
Apply the mixed mask over dark knuckles and toes.
Leave it for 10-15 minutes and then rinse it off with water.
Try this recipe twice per week.
#4 Gram Flour Mask to Lighten Knuckles Fast
Besan or gram flour is my favorite home remedy to remove impurities. This home available ingredient can effectively treat ailments and cleanse black knuckles.
Pick this remedy and add it to your beauty regimen. This chemical-free recipe will make your skin radiant.
Take 1 tablespoon of gram flour, 2 tablespoons of raw milk and 3 drops of lemon juice.
Bleaching ability exhibited by lemon juice helps to lighten dark skin.
Mix all these ingredients and apply it over dark knuckles.
After 15-20 minutes, wipe with a wet cloth.
#5 Almond Oil to Get Rid of Dry Skin on Knuckles
Nourishing and cleansing ability packed in this oil help to make your skin supple. Immense nutrients are housed in this innate oil. You can use it to hydrate the skin and also treat ailments.
Don't go out after applying almond oil. It will attract impurities. Night is the best time to try this natural remedy.
Take few drops of pure almond oil and gently massage over dark knuckles. Repeated application will make your skin soft and cleanse rough layer.
#6 Baking Soda and Rose Water
Baking soda is packed with immense cleanse ability. It can efficiently remove impurities and make your skin soft. It also kills infectious germs over the skin.
Mix 1 tablespoon of baking soda with 1 tablespoon of rose water.
Now apply this mask over knuckles and leave it for 10 minutes.
After washing, apply rose water to moisturize the skin.
#7 How to Get Rid of Dark Knuckles on Toes
Your feet work a lot; as a result, they are exposed to various irritants. Normally, you see the skin over toes become thick and rough.
Like your fingers, you must moisturize them to remove thick skin. The foot soak is preferred recipe for dark knuckles on toes.
Take a large bowl and pour luke-water in it.
Add 1 tablespoon of rose water, 1 tablespoon of baking soda and 1 tablespoon of glycerin to it.
Mix and soak your feet in this solution for about 10-15 minutes.
Repeat this process twice or once in a week. You'll experience the change.
Also read: Home Remedies to Get Rid of Thick Skin Under Toenails
#8 Vitamin E and Milk Cream
Vitamin E is good for collagen production and nourishing the skin. It also helps to make the skin soft and cleanse impurities.
Mix 1 tablespoon of milk cream with 1 vitamin E capsule.
Apply the paste over knuckles after mixing thoroughly.
Leave it for 10-15 minutes and then rinse it off with water.
Alternatively, you can just apply milk cream and wash with lukewarm water after 15 minutes.
#9 Egg White, Honey and Gram Flour
Egg whites are packed with skin lightening ability. Mix 1 teaspoon of honey, 1 egg white and 2 tablespoons of gram flour.
Apply this mask over dark knuckles on hands and toes. Leave it for 15 minutes and then rinse it off with water.
This mask is packed with moisturizing, cleansing and lightening ability.
How to Use Pumice Stone for Dark Knuckles?
Pumice stone is a part of the manicure. It can effectively remove the dark and rough skin from the knuckles.
Initially, soak your feet in lukewarm soapy water for 10 minutes.
Dip pumice stone in water and gently rub it over dark knuckles on toes for few minutes.
If your skin feels sensitive stop immediately.
Rinse the feet with water and pat dry using a soft
Apply moisturizing cream or vitamin E oil to hydrate the skin.
Also, rinse your pumice stone and store in a dry location.
Same way you can use a pumice stone for fingers.
Tips: How to Lighten Dark Knuckles
Go with the recipe that works best for your skin type.
If you experience irritation after using any of the above recipes, immediately avoid using them.
Drink enough water and take vitamin rich food.
Avoid excess washing or scrubbing.
Do regular exercise, prefer running.
Be careful while handling hard objects.
If your knuckles are repeatedly exposed to external trauma, then they will turn black. Avoid it if possible.
Regularly exfoliate your skin and moisturize before sleeping.
Consult your dermatologist for advice.