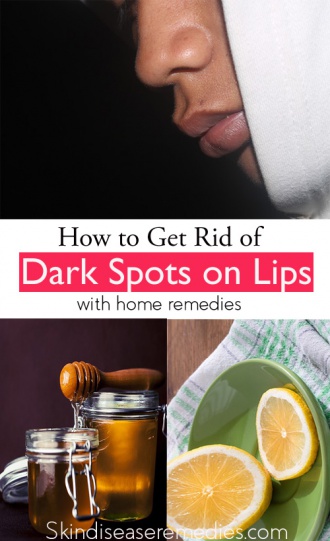 Vitamin deficiency, hormonal changes, licking lips, excess exposure to sunlight, smoking and certain foods causes dark spots on lips.
Pigmented lips ruin your physical appearance and to hide them, most people use chemical incorporated lipsticks, which can irritate your sensitive skin around lips.
So, how to get rid of dark spots on lips fast?
Luckily, there are many natural ways to remove dark spots on lips, which can turn your dark lips to natural pink.
What Causes Black Spots on the Lips?
Cosmetic products like lipsticks include ingredients that may irritate lips and old lip products may leave dark patches on lips.
Smoking and alcohol are one of the common causes of dark lips or dark spots on lips.
Excess iron in the body makes your lips look unhealthy. Check with your physician to confirm this.
External weather, chapping and minor injuries that are left untreated can also cause dark lips.
Hormonal imbalance and vitamin B deficiency affect your lips, nails, skin and hair. To avoid this, consult your physician.
Home remedies listed below have no or fewer side-effects. Anyhow, if you experience any allergic reaction stop using the ingredient and consult your doctor.
Also read: How to Get Rid of Dark Knees?
How to Get Rid of Dark Spots on Lips
1. Almond Oil for Dark Spot on Lips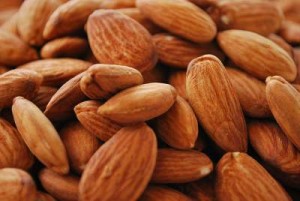 Naturally, almond oil is packed with nutrients and vitamins that can heal your skin and rejuvenate it.
Antioxidants residing in this oil will kill free radicals and wipe impurities accumulated over the lips.
You can mix it with other essential oil or apply it directly.
Assorted properties in almond oil lighten dark spots, dark circles, and hyperpigmentation.
Take pure almond oil and apply it over lips before going to bed. Repeat the process regularly, to see discoloration fades slowly.
2. Beetroot for Dark Lips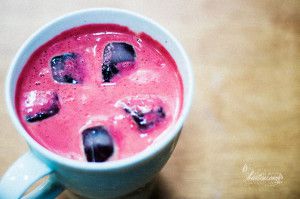 Beetroot is rich in vitamin A, C, and K; it also includes minerals like iron, copper, calcium and potassium. This will increase blood flow and enhance cell regeneration.
Antioxidants in beetroot remove toxins and can help you lighten the dark spots.
Take fresh beetroot and slice them into small pieces. Before going to bed, scrub or massage your lips with sliced beetroot. After massaging for like 15 minutes, rinse it off with water.
Make beet juice with remained beet slice. 🙂
3. Cucumber for Dark Spot on Lips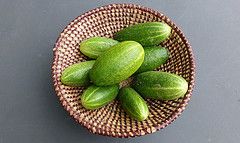 Cucumber is renowned for its hydrating property.
Dryness causes dark spots; dry lips attract impurities and bacteria.
Antioxidant and antibacterial agents packed in cucumber will restrain free radicals and stimulate healing of the skin.
You can either massage sliced cucumber over your lips or make cucumber juice and apply it over lips using fingers. Best time to try this home remedy is before going to bed.
4. Glycerin to Remove Dark Spots on Lips
Though glycerin is known to hydrate the skin, you can use it as a cleanser.
The impurities piled over your lips turn dark, when you massage them with glycerin, assorted properties in it will exfoliate dirt and enhance texture.
If you regularly use glycerin on lips, it will keep your lips well hydrated and soft. It's instant healing property helps you to heal minor injuries or wounds.
5. Lemon and Honey Lip Balm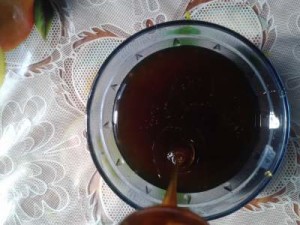 Bleaching property in the lemon will help to get rid of dark spots on lips fast.
This solution can also act as an exfoliator to remove impurities accumulated over the lips.
The emollient activity of honey locks moisture over your lips and get rid of dryness.
You can either directly use few lemon drops on lips or dilute it with honey. Best time to apply honey solution is at day time; leave the lip balm for an hour.
Don't apply this solution at night, as you may invite ants or insects on your lips. You can store the solution in the refrigerator for future use.
6. Olive Oil to Get Rid of Dark Spots on Lips
Olive oil is packed with assorted nutrients and vitamins that can nourish and moisturize your lips.
Healing and exfoliating property in olive oil will help to remove impurities from the lips and remove dark spots.
Take extra virgin olive oil and massage over the lips, leave the oil for about an hour and rinse it off.
Don't apply this lotion at night. Best time to apply the oil is at day time. Regularly use olive oil for dark lips for pink and soft lips.
7. Drink Enough Water
Along with external creams and mask, you must hydrate yourself from the inside. Drink at least 8 glasses of water daily and practice a good lifestyle. Include fiber and water rich foods like cucumber and watermelon.
8. Apple Cider Vinegar
Moisturizing and anti-inflammatory activity exhibited by ACV can't be ignored. As high concentration of ACV may irritate sensitive skin of lips blend it with water.
Take pure ACV and dilute it with some water if needed. Dab cotton ball in ACV and apply it over lips.
9. Turmeric and Nutmeg Paste
Cosmetic benefits of these two products are very prominent. Powder nutmeg and add a pinch of turmeric powder. You can add water to make a paste.
Apply it over lips and leave for few minutes before washing it off.
How to Remove Dark Spots on Lips from Smoking?
It's a known fact that smoking has a harsh effect on your overall health. Dark lips are usually the most noticeable one.
I believe you might have gone through all those no smoking signs and very well aware of its health hazardous. So, am not going to tell you to stop it.
You can use above listed natural ways to get rid of dark lips.
But, as a quick remedy, you can just rub your lips with lemon juice. Natural bleaching ability of lemons will regulate melanin production and also help to exfoliate lips.
Another way is to try petroleum jelly available at local store. Beauty experts say that regular moisturizing can help your lips stay healthy.
You can also try sugar and honey lip scrub to exfoliate dead cells.
Food you eat can help
Beauty experts say, like your lip balm healthy diet can also help to remove dark spots on lips.
Further, an expert states that to make your lips look soft, old skin cells must be replaced by new ones. Omega-3 fatty acids in fish and walnuts may help regulate this. (Source)
Tips on How to Get Rid of Dark Spots on Lips Fast
Licking destroys protective layer over the lips. Apply lip balm instead of licking.
Protect your lips from sun rays by apply SPF lip creams.
Drink enough water regularly. Take water bottle wherever you go. (Source)
Stay away from chemical ingredient cosmetic creams and lips sticks.
Give up smoking and tobacco, as they will turn your lips dark.
Avoid excess exposure to sunlight, impurities, and dirt.
Regularly apply glycerin or almond oil on lips. This will nourish and soften your lips.
Substances that irritate your immune system must be prevented.
Save