It's normal to the scratch head while answering or thinking crucial things. But, there are many people who experience persistent itching because of various factors including the dry scalp, skin ailments, and weather.
Washing your scalp may seem as an ultimate solution for this problem.
But can it restrain itching? No.
So, how to get rid of itchy scalp without washing hair?
Hydrating your itchy dry scalp with natural ingredients may work like magic. Why to use only natural remedies, when there are numerous cosmetic products?
Beauty experts say that repeated use of chemically incorporated products may irritate your sensitive skin and scalp. Also, ingredients in these hair products may trigger a reaction.
Why Not Shampooing or Washing for Itchy Scalp?
For many people, it may come as surprise.
Without any doubt washing or shampooing will help to remove dry flakes over the scalp. But to stop itchy scalp, you must reach its main cause.
Hot water irritates your scalp and results in itching. Apart from this, most shampoos are added with preservatives and synthetic perfumes, which can damage your scalp and hair. (1)
It doesn't mean that you must completely stop washing or shampooing.
Instead of regular use, try it few times in a week. Check for the best product with natural extracts. You can also use natural ingredients to wash your hair.
How to Get Rid of Itchy Scalp without Washing Hair?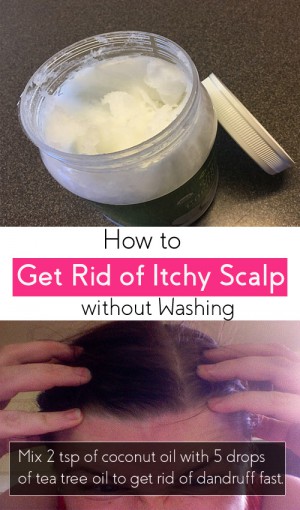 Often people associate itchy scalp with dandruff. Though in some case they might be correct, but bacterial infection and other ailments also cause itching.
So, you must initially know the under cause of the issue.
More than us, cosmetic industries knew about nutritional benefits of natural ingredients. This is why you see many products highlight that they include natural extracts.
But, they refine and process to meet their product. You can instead use the natural ingredient yourself and reap its benefits.
#1 Coconut Oil to Stop Itchy Scalp
Like your skin, scalp too needs attention.
Exfoliating and hydrating your scalp will make it healthy. Coconut oil is free from harmful chemical ingredients that may damage your scalp.
The moisturizing ability of coconut oil can help to get rid of itchy scalp and also stimulate hair growth.
A study state that coconut oil outperforms mineral and sunflower oil in controlling hair loss. (2)
Regular massaging with coconut oil will improve blood circulation, which enhances the healthy functioning of your scalp.
Lauric acid and capric acid housed in coconut oil penetrate deep into the scalp and thwart infectious germs that irritate your scalp.
Dandruff which is caused by dry skin and harsh chemicals can be treated by coconut oil. (3)
With SPF 8 coconut oil can protect your scalp and hair from harmful sun rays. (4)
How to use: Heat coconut oil if it's in a solid state. When the oil is cooled, apply it over the scalp evenly and leave it to dry naturally.
Try this natural home remedy every alternate day before going to sleep.
For an effective remedy, you can mix 6 tablespoons of organic coconut oil, olive oil and 3-4 drops of rosemary oil. You can also blend 3 drops of tea tree oil to this lotion. (Source)
#2 Tea Tree Oil
Antibacterial and anti-fungal ability exhibited by this essential oil can help you to stop itching scalp.
Studies also back tea tree oil for reducing eczema and other inflammatory scalp conditions. (5)
Another study stated that shampoo with 5% of tea tree oil showed excellent results in treating dandruff.
The moisturizing activity of tea tree oil can help to get rid of dry scalp.
Anti-androgenic effect of this oil inhibits male hormones that result in hair loss.
How to use: High concentration of tea tree oil can irritate your skin and scalp. So, beauty experts blend this essential oil with coconut oil to dilute. Instead of coconut oil, you can use few drops of water or conditioner.
If you experience itching even after using this oil, then stop its use and consult a physician.
Also read: How to Use Almond Oil for Eczema
#3 Lemon Juice to Get Rid of Dandruff Fast without Washing
Vitamin C, antioxidant and anti-fungal properties housed in lemon juice can effectively reduce dandruff.
Healing and the soothing ability of this natural ingredient also reduce itching and maintain pH level over the scalp.
Antibacterial properties residing in lemon can thwart infectious germs that trigger itching and flaking.
How to use: Blend coconut oil with lemon juice or just drop lemon juice on your scalp and start massaging evenly. Rinse it off after 30 minutes.
There are different recipes you can try with lemon juice. But, make sure that you aren't applying excess lemon juice. Acidic nature of this citrus fruit can make your scalp sensitive.
Also read: Fish oil for scalp psoriasis
#4 Aloe Vera Gel
Aloe gel is prominent for its healing and moisturizing benefits. You can consume it internally to reduce heat and its cosmetic uses are renowned.
This sticky gel may not smell good but nutrients packed in it can heal minor cuts, burns, chronic ailments and inflammatory conditions.
It locks the moisture on the scalp and skin.
The anti-inflammatory property of aloe gel can reduce persistent itching and red spots over the skin.
How to use: Peel the skin of aloe vera leaf and apply aloe vera gel over the scalp. Leave for 15 minutes and then rinse it off.
For an effective remedy blend 1-2 drops of glycerin, 2 drops of jojoba oil, 1 teaspoon of aloe gel and 10 drops of grapefruit extract with 8 ounces of distilled water. (Source)
#5 Baking Soda
Its use isn't confined to the kitchen; you can mix some water with baking soda and apply it over the scalp.
Assorted nutrients in baking soda can help to maintain pH balance over the scalp.
It can possibly thwart fungal infection and other ailments that result in the itchy
How to use: Mix required amount of baking soda with apple cider vinegar or distilled water. This hair lotion will remove scaly patches and restore natural pH level on the scalp.
How to Get Rid of Dandruff Fast without Washing?
Dandruff is one among the main causes of itchy scalp. Washing or shampooing will though help to remove dry scaly flakes, you can't get rid of it just by washing.
I don't completely condemn using shampoo; there are some good products that work fine. But, as mentioned above, repeated use of this chemical included products are going to irritate your scalp.
Though few blogs recommend using dry shampoo, they may irritate your scalp. Instead use natural remedies listed above.
How to use: Mix 2 teaspoons of coconut oil with 5 drops of tea tree oil and mix thoroughly. Massage the oil over scalp and leave it dry. Cover with a shower cap to increase its effect.
Try this remedy 2-3 times in a week.
Conclusion
Above listed are few home available remedies to get rid of itchy scalp without shampooing. These ingredients can be used for quick moisture and its assorted nutrients can thwart infectious germs.
This article doesn't mean that you must not wash or shampoo, instead of solely relying on shampooing and washing your hair try these quick remedies.
Avoid chemical ingredients, drink enough water and ingest omega-3 fatty acids included diet.
Share your recipes to get rid of itchy scalp without washing hair in comments.