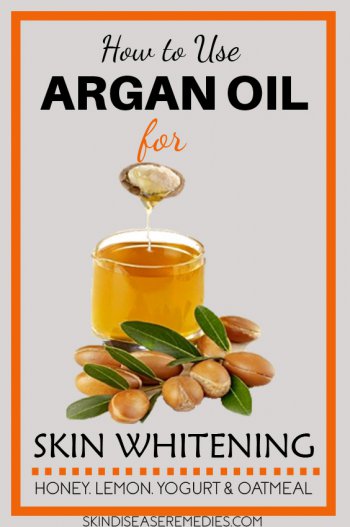 Fairer skin is everyone's desire. There are a bunch of home remedies to make your skin radiant. Here you'll learn about argan oil for skin lightening. Stay tuned to experience the magical power of this liquid gold.
Nature gifted us with lots of natural oils, which can be used for different purposes. In the cosmetic world, these natural oils have got prominent space.
Essential vitamins packed in these oils enhance skin's healthy functioning and guard it against irritants.
Why Causes Dark Spots to Appear?
Dark spots appear on your skin due to increasing impurities, exposure to UV rays, hormonal imbalance, and low nutritional intake.
Washing your face with soap or face wash isn't enough to remove these impurities. By the way, ingredients residing in these products may irritate your skin.
As mentioned there are a bunch of innate ingredients that can make your skin supple, in this article I'll be discussing argan oil and how you can use it for skin whitening.
Women are more concerned about their appearance; this is why on an average they spend about 1 hour before the mirror.
Looking at the skinny flawless models, most teenage girls dream of that enticing look. Cosmetic industries use their desire to fuel their business. But, very few people are aware of the chemical ingredients packed with these beauty products.
Unlike cosmetic products, natural remedies are inexpensive, easy to use, has no chemicals irritants, a great source of vitamins and minerals.
Is Argan Oil a Bleaching Agent?
This single ingredient can do more than a bunch of cosmetic creams.
Am not exaggerating, reports say that regular use of beauty creams will make your skin lose its elasticity.
Argan oil is renowned to remove wrinkles, fine lines; hydrates dry skin and combat with skin ailments.
Cleansing ability of argan oil will help to remove impurities and dead cells piled over the skin.
Vitamin E, linoleic acid and omega fatty acids residing in this oil help to get rid of discoloration and improve your complexion.
This liquid gold is a rich source of antioxidants, which fight free radicals that damage cell membrane.
Assorted nutrients in the oil can reduce chronic skin conditions like eczema and psoriasis.
Massaging with a natural moisturizer like argan oil will help to exfoliate impurities and stimulate cell regeneration.
Dry skin, UV rays, and impurities cause dark patches on the skin. After regular use of this oil, your skin will be happy to breathe easy.
When you hydrate and exfoliate regularly, your skin looks much younger and obtain natural glow.
Unlike other oils, topical application of argan oil will not clog your skin pores. Apart from using argan oil to lighten dark spots, vitamins residing in it fade aging signs.
How to Use Argan Oil for Skin Lightening?
Wash your face and directly apply this liquid gold on the skin. For best results, experts recommend cleansing the impurities first using gram flour and then massage with argan oil before going to bed.
Nutrients in the oil will penetrate deep into the skin and they have all night to improve your skin texture.
But, don't expect overnight results. Try this simple remedy for about 15 days, thrice or twice in a week. If you've dry skin, then skip gram flour mask and just wash your face with lukewarm water.
Use only pure argan oil, which is made for cosmetic use. Don't use culinary argan oil.
#1. Argan Oil Face Mask
Ingredients list include lemon, honey, and avocado.
Lemon juice is prominent for its bleaching ability. Regular application of its juice will lighten the appearance of dark spots and make your skin firm.
Honey is a package of all beauty benefits. Not just improving your skin complexion, this natural ingredient can treat acne and eczema.
Avocado is housed with vitamin B, E and essential nutrients that improve your skin texture and makes it bright.
Add 1 teaspoon of lemon juice with 2 tbsp of avocado and 1 tbsp of raw honey.
Also, add 1 tbsp of argan oil to the paste.
Mix thoroughly, add water if needed to make a thick
Wash your face or cleanse it. Apply the mask and allow it to dry for 15 minutes.
#2. Argan Oil for Skin Whitening
Here you'll need yogurt, honey, argan oil and lemon juice.
Plain yogurt is packed with skin brightening properties that are essential to obtain radiant skin.
Mix 1 tbsp of lemon juice with 5 drops of argan oil and 2 tbsp of yogurt.
Also, mix 1 tbsp of raw honey to the paste.
Apply the mixed paste on your face and rinse it off after 15-20 minutes.
Limit the use of lemon juice if you've extremely dry skin.
#3. Argan Oil for Anti-aging
You can't achieve enticing skin with wrinkles. Apply this mask to reduce the appearance of premature wrinkles.
Mix 2 tbsp of avocado (mashed), 1 tbsp of oats, honey 1 tbsp and 1 tbsp of argan oil.
Apply the mixed paste on your face and it on your face.
Instead of avocado, you can mix its oil with argan oil and apply it on the skin.
Allow it to dry naturally for 15 minutes.
#4. Argan Oil Exfoliating Face Mask
Impurities and dead cells over the skin also lead to dark complexion.
Exfoliating is one of the effective ways to make your skin radiant.
Here, you'll need egg white, which is prominent to remove impurities, fresh milk, renowned for its skin lightening abilities, also brown sugar for exfoliating.
Mix 3 tbsp of milk with 2 tbsp of sugar and 1 egg white.
Add 1 tbsp of argan oil and mix thoroughly.
Apply the paste on prewashed face and rinse it off with water.
#5. Argan Oil to Lighten Dark Spots
Nature lovers like us, don't love to fill your face with chemical incorporated creams.
Here you'll need oatmeal, Neroli essential oil, avocado, argan oil and honey.
All these ingredients are packed with immense vitamins and minerals that are essential for radiant youthful skin.
Argan oil – few drops
Neroli essential oil – 2 drops
Avocado – 4 tbsp
Honey – 2 tbsp
Coarsely grounded oats – 2 tbsp
Slice avocado and scoop 4 tablespoons of it. Blend it into a paste with a blender.
Add oatmeal, honey, Neroli essential oil and argan oil to the paste. Apply it on your pre-washed face and rinse it off after 10-15 minutes.
For acne treatment, damp cotton ball in argan oil and use it as a spot treatment. Continuous use will lighten acne scars and stretch marks.
Tips
Beauty isn't about radiant skin.
Above mentioned recipes won't turn dark complexion to fairer. But, the regular application can remove impurities, treat ailments and fade dark spots that ruin your physical appearance.
Avoid stress and stay peach. This is one of the important factors to achieve youthful skin.
Apart from that, you must ingest vitamin-rich diet, drink enough water and stay away from chemical included creams.
Did you ever use argan oil for skin lightening? Why don't you share your experience with us?