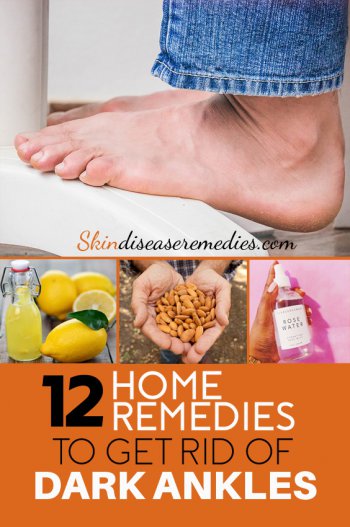 Dark thick skin on ankles is due to numerous things including serious medical condition. Fortunately, there are many home remedies to get rid of dark ankles.
Before jumping to recipes, the mere cause of this discoloration must be known, as it can be associated with the medical condition.
What Causes Skin to Turn Dark Around the Ankles?
Wet clothes, wearing boots and certain medical issues are held responsible for this discoloration.
Pigmentation on the skin is common when triggered by environmental factors. But, if the pigmented skin is changing gradually, then you must see a physician. (1)
Venous stasis, sprains, and bruises can cause dark ankles. These problematic medical ailments occur due to poor blood circulation.
According to experts, venous stasis occurs when veins lose the ability to circulate blood towards heart from legs. This results in pooling red blood cells and turning the skin color of ankles to dark.
(Related post: How to lighten dark knuckles and toes?)
External injury or wearing unsteady shoes and walking on uneven ground results in rupture of minor capillaries, which results in accumulation of blood under the skin turning it to blue and then black.
Apart from medical conditions, your ankles turn dark due to injury, hiking or external trauma.
How to Get Rid of Dark Ankles with Home Remedies?
Natural remedies are safe and effective towards ailments.
But, in case of serious medical conditions, you must initially consult a physician, because topical application of these ingredients will not treat the ailment from inside.
Below mentioned are different recipes to get rid of dark thick skin on the ankle bone.
#1. Lemon Juice
Bleaching ability residing in this citrus fruit is prominent. Filled with essential vitamins and minerals, topical application of lemon juice will lighten your dark ankles.
Wash ankles with water and pat dry.
Squeeze fresh lemon and collects its juice in a bowl.
Using a cotton ball apply the juice on dark ankles.
Allow it to dry naturally.
Repeat the process twice in a week.
#2. Aloe Vera Gel
Renowned for its healing and sticky nature, aloe vera gel also exhibits skin whitening abilities.
Aloe gel consists of 150 nutritional components including minerals, lignins, salicylic acids, and enzymes.
Extract fresh aloe gel from your garden or borrow from a neighbor.
Apply a tablespoon of aloe vera paste on your affected skin.
Allow it to dry for few hours.
Hydrating property housed in this ingredient will soften your thick skin on the ankle bone.
#3. Castor Oil for Dark Ankles
Omega-3 fatty acids residing in castor oil penetrates into deeper layers of the skin and improves blood circulation.
Vitamin E residing in this folk remedy can lighten the appearance of discolored ankles and increase cell regeneration.
Take required amount of this thick oil and apply it on the prewashed
Hold the oil by wearing socks and remove them in the morning.
You can also wrap ankle with a cloth.
#4. Coconut Oil
Studies conclude that topical application of coconut oil is effective for hydrating your skin. (2)
Fatty acids help to restrain bacterial infection, hydrate your skin and reduce discoloration of ankles.
Mix 1 tablespoon of coconut oil with half lemon juice.
Wash your ankles and pat dry.
Apply the mixed solution on dark ankles and leave it to dry.
Also read: How to use coconut oil to whiten skin?
#5. Potato Juice
Topical application of potato juice will also help to get rid of dark ankles.
Instead of juice, to make it simple you can rub your thick-skinned ankles with sliced potatoes.
Rinse it off with lukewarm water after few hours.
#6. Cucumber
Consists of high concentration of water, cucumber has skin lightening abilities. You can use it on the face regularly to obtain radiant skin.
Bleaching ability of this innate ingredient can't be ignored.
Similar to above recipe, sliced two cucumbers.
Rub them on dark ankles for few minutes.
Allow the juice to dry for 20 minutes.
Rinse it off with water.
#7. Milk and Rice Flour Paste
Rice flour removes excess sebum piled on your skin. Nutrients in this home available ingredient can protect your skin from UV rays and reduce the appearance of the dark complexion.
Lactic acid in milk is known to exhibit cosmetic benefits.
Mix 3 tbsp of milk with 1 tbsp of rice flour.
Apply the obtained paste on the prewashed
Rinse it off after 20 minutes.
#8. Sandalwood and Rose Water
Beauty benefits of both ingredients are prominent, which needs no explanation.
Sandalwood powder is housed with anti-tanning and skin whitening properties. Topical application will lighten the appearance of dark ankles.
Mix equal quantities of sandalwood powder and rosewater.
Wash your dark ankles to remove impurities.
Pat dry and apply the obtained paste on thick ankles.
Rinse the mask after 15-20 minutes.
#9. Baking Soda and Water
Baking soda is one of the extensively used ingredients. It has many beauty benefits in it.
Mix 2 tablespoons of baking soda with 1 tablespoons of water.
Now apply the paste on affected part in circular motion.
Allow it to dry naturally for 15 minutes and then rinse it off.
#10. Cocoa Butter
Anecdotal reports claim that topical application of cocoa butter can lighten the appearance of scars and improve skin complexion.
Vitamin E residing in this ingredient can help to promote collagen production and cell regeneration.
Apply pure cocoa butter on thick dark ankles.
Allow it to sit for 15 minutes.
Rinse it off with water.
#11. Oatmeal and Honey Scrub
Exfoliating is important to remove accumulated dead skin cells. Oatmeal is renowned for this purpose.
Coarsely grind oats and mix it with 2 tablespoons of oatmeal.
Now apply this paste on your ankles in a circular
Allow it to dry for 15 minutes.
Rinse it off with water.
#12. Glycerin
Renowned for its hydrating and healing properties, glycerin can help to soften the thick skin on ankles.
Apply required amount of glycerin on your ankles before going to bed. You can blend glycerin with rosewater.
Rinse it off in the morning.
Overview
Hydrate your skin with rosewater or glycerin.
Exfoliate with gram flour, rice flour or walnut shells.
Apply natural moisturizer like almond oil for cell regeneration.
You must consult a physician to confirm the ailment behind dark ankles. Which home remedy do you use to get rid of dark ankles?