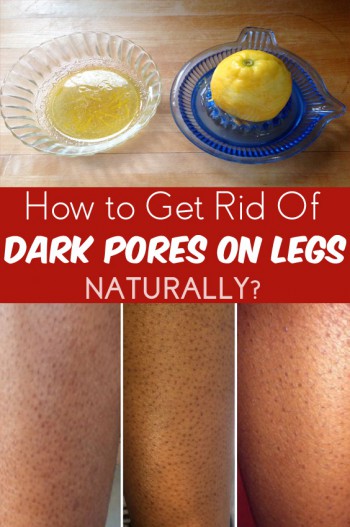 Have you ever lamented the appearance of dark spots and pores on your legs and hands? They are a worry to most girls who wax and shave regularly and who take immense troubles with their physical appearance.
Are you or someone you know looking for a way to get rid of dark pores on your legs with methods that are natural and fast? Read on to find out more about this common problem and what you can do to solve it.
Why do the pores appear?
The best way to solve a problem is to find out what causes it? If you want to get rid of dark pores on legs you must know why they appear.
Dark pores appear due to blackheads present on the legs. In medical terms, these are known as open comedones by dermatologists.
It becomes more pronounced when the sebum or oil produced by the dilated hair follicles of the legs and hands are incompletely or forcibly removed through cosmetic means such as shaving creams and physical means such as waxing gets oxidized by coming in contact with the air or sunlight.
Sometimes it is caused by an overgrowth of dead cells or ingrown hair in the affected areas.  This gives the skin an uneven and dark look that resembles that of a strawberry.
Therefore, sometimes this phenomenon can also be called 'Strawberry legs'.
How to Get Rid of Dark Pores on Legs?
We've all heard the popular idiom that states how 'prevention is better than cure', the same holds true with the treatment of dark pores on legs.
Ideally, shaving should always be avoided at any cost, as it doesn't pull the hair out completely and causes dark pores on the legs.
However, as beauty standards keep getting raised by celebrities from Hollywood and Bollywood, many young women and even some men feel the pressure to conform to these norms.
This makes them look for quick fixes for hair-growth and they resort to shaving which leads to blackheads.
This is not a permanent problem and today there are many techniques and methods to treat dark pore spots on the legs. Some of these treatments are cosmetically enhanced, whereas others are natural and home-made remedies that are easily applicable to anyone.
When given a choice between cosmetic and natural treatments, it is always better to go in for a natural treatment to remove dark pores fast from the legs and hands.
Also read: How to Get Rid of Dark Thick Skin on Ankles?
Cosmetic Measures to get rid of dark pores on legs
Cosmetic methods may be adopted by people who don't have the time to prepare natural remedies in the kitchen at home. They usually opt for expensive products that are mechanical or chemical. These do help in a way but in the long run, it is ten times better to use a natural remedy to get rid of dark pores fast.  Some of the ways you can remove them cosmetically are:
#1 Electrical Exfoliators– These electrically exfoliate the dead skin cells that surround the deep, dark pores making it easier to remove them.
#2 Blackhead Remover Mask– These masks are being marketed widely
to remove blackheads and other impurities from the skin.
#3 Salicylic acid– Soaps and body washes containing salicylic acid can be used as it reduces pores and helps in overall skin exfoliation.
How to Get Rid of Dark Pores on Legs Naturally?
In case you do have the time to pamper your skin and make it feel great, you should pay attention to the following steps which are easy and chemical-free ways in removing dark pores on legs naturally. Almost all the ingredients required will be readily available and easily found in your kitchen, fridge or neighborhood grocery store.
Natural remedies are also the way to go in case you don't want to invest in expensive cosmetics or book yourself an unnecessary appointment with the dermatologist.
These simple steps are also in demand by people who stay away from chemicals or who have an allergy or adverse reaction to chemicals found in these specific products.
Here are some of the natural remedies available for you to get rid of dark pores on your legs. Let's take a look!
#1 Dried Fruit Peels
You may use a few fruit peels made of oranges and bitter lemons by drying them in the sun and grinding those later.
Next, mix this dried fruit peel powder with a couple of drops of warm water and honey to make a smooth paste.
This is a natural exfoliant that can be used on the entire affected areas focusing a bit more on the blackhead prone areas like the knees and calves.
You should use this natural scrub every other day to keep your skin radiant and clear.
#2 Banana and Papaya Masks
For those of you with sensitive or acne-prone skin using a skin peel would irritate the already delicate skin as it can get aggravated by scrubbing.
Hence, fruit masks are the option for you; these masks involve just a mild application followed by washing them off.
For the people affected with dry skin, you can use a banana fruit mask by squashing a banana and mingling some honey in it.
For those with oily skin, substitute the banana with a raw papaya to make a raw papaya mask.
Both fruits contain anti-oxidants that bleach the blackheads gently and naturally.
#3 Honey – Oatmeal Scrub
So, you assumed that honey and oatmeal was just a popular combo for children's cookies? Well, let us state that it is great for treating blackheads and keeping your pores clear and unclogged too.
You just need to mix an equal amount of oatmeal and honey, generally two spoons each and add about three teaspoons of milk to blend this into a smooth consistency.
Use the oatmeal and honey scrub to get rid of dead skin cells and bring the glow on satin-smooth legs.
Related: Home Remedies to Get Rid of Dry Scaly Skin on Legs
#4 Honey and Lemon Mix
A mixture of warm honey and lemon can work wonders with a few tablespoons of lukewarm water.
The benefits are well known when ingested but not many know that it has extreme benefits when used externally too.
All you need to do is mix equal quantities of honey to drops of lemon juice, squeezed naturally and apply this on your legs.
Wash off the mixture with luke-warm water after leaving it on for at least 10-15 minutes.
The anti-microbial quality of honey and lemon give relief to a further build-up of blackheads, while at the same time clearing your pores. Use this mix twice a week for the best results.
#5 Steam Solution
Don't like to get your fingers icky and sticky with making mixtures and scrubs? No time to enter a kitchen? Or are you living in a hostel of PG accommodation that doesn't allow you your own kitchen space? Doesn't matter! The natural remedy of a plain old steamed wash towel cannot be underestimated.
Have a warm shower or soak in the hot-tub for 10 minutes. Next use a towel that has been exposed to steam and apply it to the legs for at least 5-10 minutes.
This will help open the pores to cleanse the dirt from within.
You can complete the process by using a gentle cleanser to get rid of pending impurities or dab the area with an astringent.
#6 Sandalwood and Coconut Oil
Some products are easily available in some regions of the country.
For an individual, using sandalwood and coconut oil would be easier.
Just add some drops of pure sandalwood oil or essence to the heavier coconut oil and mix it thoroughly.
Then you can apply the mixture to your legs to help in the elimination of dark pores.
For best results, this should be done every third day.
#7 Tea Tree Oil
The benefits of tea-tree oil have been popular for a long time in the cosmetic and beauty industry.
It can be used as a natural antibacterial substance, and it is as effective as the various chemical processes that are used to remove dark pores.
All you need to do is add 2-3 spoons of warm olive oil to the tea tree oil and apply that in the dark areas of the legs.
Note: Tea-tree oil should not be used directly or in the raw form, as it may burn the affected areas, further darkening it.
#8  Simple Scrubs
Use some of the most common ingredients found in the kitchen and easily available in households to make scrubs for your skin.
Now you can make a sugar scrub to wash away your dead skin and pores.
First, add 2 tablespoons of sugar with 4 spoons of olive oil
Then mix a little bit of baking soda dissolved in some water to the mixture
Finally, sprinkle a pinch of salt with a few teaspoons of buttermilk to make a smooth paste.
Apply generously over the affected area regularly for best results!
#9  Cucumber Juice
Massage your legs with the juice of a cucumber to remove dark spots.
Apply on your legs evenly and then wash it off.
You may use a moisturizer after this to reduce the unevenness of the skin.
Thus, this is an almost comprehensive list of natural and home-made, as well as some cosmetic remedies that can be used to remove dark pore in the legs fast.  Using any of these on a regular basis will benefit the user with positive results and prevent a reoccurrence of blackheads and pores from returning.
You may also try any of these strategies for at least a month and be prepared to be noticed for your silky, smooth and dark-pore free legs.
Conclusion
Everyone knows that prevention is better than cure, so the best way to deal with your dark pores is to avoid them in the first place!
Be careful while shaving and use only women-friendly blades. Women's skin is very different and more fragile than men and using regular shaving sticks, darken the area and create these dark pores.
Alternatively, use an epilator or go in for waxing, especially chocolate, if you have sensitive skin. Don't forget to exfoliate your skin during a hot bath.
A regular pedicure at your salon will go a long way in saving you time with skin that makes you feel irritable.
Use pore reducing gels that have extracts of rose and jojoba oil to keep skin pore friendly.
Have you ever used any home remedy to get rid of dark pores on legs that have not been mentioned in this article?
Add your own recipe to this and help us expand this list!