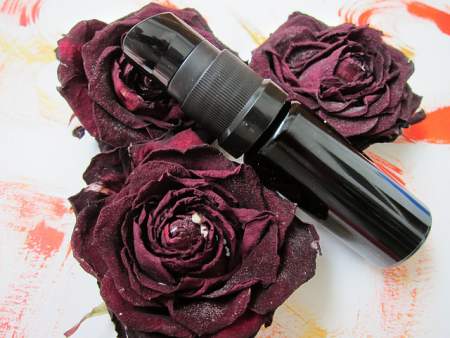 Glycerin and rosewater are prominent for hydrating and healing abilities.
These innate lock moisture over the outer layer of the skin. Due to its versatile nature, it easily gets absorbed by your skin. According to WebMD.com humectants like glycerin, lecithin and rosewater attract water to the skin. (1)
Enticing properties residing in these two ingredients allured cosmetic industries to incorporate them it into their beauty products.
Benefits of glycerin and rosewater for face have been documented by many beauty experts and ancient people.
Glycerin is a colorless viscous liquid and sweeter in taste. While rose water is also colorless and is made by steeping rose petals. Both are non-toxic and have been used in cosmetic and food industries.
12 Awesome Benefits of Glycerin and Rosewater for Skin
Comparatively, glycerin is sticky than rosewater. You can either use them separately or blend them and topically apply over the skin.
Else you're free to prefer any innate home ingredient as a combination. Now let's take a note on how rosewater and glycerin for skin are beneficial.
#1 Rosewater and Glycerin for Acne
Phenylethanol housed in rosewater is an astringent, which thwarts acne-causing bacteria and reduce pimples. Antioxidant and anti-inflammatory properties of rosewater help to reduce inflammation caused by acne. (Source)
Glycerin is non-comedogenic in nature, which makes it a perfect remedy for treating acne lesions.
Lemon juice is packed with an antibacterial ability that helps to restrain acne causing bacteria.
To make the recipe effective, beauty experts recommend blending these ingredients.
How to Use: Take required amount of rosewater, glycerin and add few drops of lemon juice to it. Wash your face and apply the toner all over the face.
Limit the use of lemon juice if you've dry skin.
#2 Glycerin and Rosewater for Skin Lightening
Increasing levels of pollution and dirt give a tough competition for your skin. Wipe them out using rosewater and glycerin solution.
Various factors influence the formation of dark spots. UV rays, skin ailments, dry skin and hormonal imbalance are held responsible for this skin disorder.
Bleaching ability of lemon juice, the moisturizing activity of glycerin and cleanse property of rosewater combine to work for skin fairness.
How to Use: Cleanse your face to remove impurities. I prefer gram flour mask for removing dirt and dead cells.
Mix required an amount of rosewater with glycerin and apply it over the face using a cotton ball. Leave it to dry naturally.
Note: These ingredients will effectively reduce skin complexion and cleanse impurities. But, don't expect this remedy to change your brown skin to radiant skin within weeks.
#3 Rosewater and Glycerin Toner

To reap exceptional benefits of these two ingredients, a skin toner will be helpful. You can get this toner at the local drug store or make it at home.
Repeated application of this toner will reduce wrinkles, rejuvenate skin, moisturize and makes the skin radiant.
How to Use: Mix 1-2 cups of rose water with a 1/4th cup of glycerin. After mixing thoroughly pour the solution into a spray bottle for future use.
#4 Aromatherapy
Rosewater essence is regarded as mild sedative and anti-depressant. So it's believed to reduce stress and increase your focus.
According to researchers, stress is one of the main triggers of eczema, acne, and psoriasis. (Source)
How to Use: Spray your room with rose water before sleeping. You can also apply this toner over the face and on the pillow to burst stress and to have a good sleep.
#5 Fades Redness
These astringent properties in rosewater help to diminish the redness over skin caused by capillary enlargement.
Regular application of glycerin and rosewater will reduce redness caused due to inflammation, scars and make the skin radiant.
#6 Healing Agents
Phenylethanol also acts as healing agent; it stimulates cell growth to faster healing. In 2002 a study reports that cream with 20% of glycerin treated dry and eczema affected skin better when compared with creams with no glycerin.
#7 Moisturizing Ability
Glycerin is the first remedy to try in winter when skin dries up. It absorbs water from the air, this property made glycerin to incorporate into cosmetic creams. When directly applied over the skin it brings moisture to the outer layer of the skin.
Assorted properties in rosewater are known to hydrate dry skin, fade scars and reduce inflammation.
Night is the best time to apply this face mask. As it has no chemical ingredients, you can freely apply it regularly.
#8 Treats Skin Ailments
It makes a protective barrier over the skin to protect it from pollution, dirt, and infection causing bacteria. Antibacterial property in rosewater fights bad bacteria.
Chronic skin ailments like acne, eczema, and psoriasis can be reduced by healing and the moisturizing ability of rosewater and glycerin toner.
Note: Eczema and psoriasis can't be treated permanently by rosewater. You must consult a dermatologist.
#9 Balance pH of the skin
Both glycerin and rosewater for skin turn out to be an excellent toner. It helps to balance the pH level of the skin.
#10 Rejuvenates the Skin
The mixture helps to rejuvenate the skin and postpone aging wrinkles. Mix sandalwood or lemon juice and it turns out to be a great exfoliator. It also makes your skin smooth and helps to shed dead cells.
#11 Fade Wrinkles
Topically applying this mixed solution will revitalize skin and enhances the elasticity of the skin.
Vitamins residing in this toner help to reduce aging wrinkles by moisturizing the skin.
Along with its topical application, you must include vitamin rich diet and drink enough water for healthy skin.
#12 Glycerin and Rosewater for Oily Skin
Because of its sticky nature, many people think that glycerin will block skin pores and may result in acne.
But when you dilute it with rose water it stands out to be the most perfect remedy for oily skin. The non-comedogenic ability of this toner avoids blocking of skin pores.
It easily penetrates into the skin to improve healthy functioning of the skin.
However, people with oily skin must avoid excess use of glycerin as it may attract impurities and dirt. Night is the best time to apply this home remedy. Wash this mask before leaving your home.
How to Use Rosewater and Glycerin and Lemon for Face?
If you want to make your own solution, then mix 1 ½ cup of rosewater into a 1/4th cup of glycerin. Mix or shake it well after pouring into the bottle. You can keep it for further use. (2)
Optionally add few drops of lemon juice to this solution and apply it over the face.
You can make your own solution or get it from a local drug store. Wash your face before applying and pat dry using a soft cloth. When the skin is still damp, apply the solution using a cotton ball. Leave it for few minutes so that your skin absorbs it.
Most experts recommend applying creams or lotions at night so that ingredients get a longer time to affect your skin and also it's easy to rinse it off in the morning.
Did you ever use glycerin and rosewater for face or to treat acne? Share your views in comments.
Save