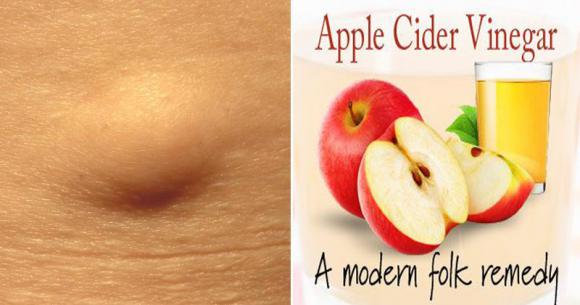 Soft rounded and a movable nodule on your skin can be lipomas. In some cases, these small fat lumps can grow up to 6 cm. Here you'll learn on how to use apple cider vinegar for lipoma.
No need to panic, this is a benign tumor. Unlike cancer, this will not spread to nearby tissues. However, you must get diagnosed by your physician.
Considered as a beauty concern, a lipoma isn't associated with pain or inflammation like acne.
This movable lump is made up of adipose or fat tissues. Located under the surface of your skin, lipoma has many subtypes.
Can Apple Cider Vinegar Get Rid lipomas?
Acidic nature of this ingredient destroys the fat tissues and help to get rid of the swollen
Internal consumption of ACV will help to reduce fat deposits in your body, thus may decrease or prevent lipoma.
Acid and alkaline nature of apple cider vinegar balance pH level on your skin and gradually reduces
Nutrients, organic acids, potash, pectin and other essential enzymes in ACV helps to burn the fat.
Regular consumption of ACV diluted in water and honey will suppress your appetite and make you feel lighter.
Internal consumption helps to flush toxins and other impurities from the body. It also removes stored waste in color that helps to prevent fat deposits.
Alpha-hydroxy acid residing in ACV help to cleanse dead cells and other impurities from the skin.
Assorted nutrients in this home available remedy help to improve your overall skin texture.
Also Read : Ultimate Guide on Using Vinegar Foot Soak
How to Use Apple Cider Vinegar for Lipoma?
As mentioned above, we strongly recommend that you get diagnosed by doctor initially before using this recipe.
Based on the severity of nodule, they may suggest medication or surgery.
Apple cider vinegar isn't associated with any serious side-effects, so you can give it a try.
#1. Apple Cider Vinegar
Acidic nature of ACV may irritate your sensitive skin. So, patch test before applying it on lipoma.
Internal consumption and topical application both ways can be effective in treating lipomas.
Mix 1 tbsp of ACV with water and drink before going to bed.
You can take 1 teaspoon of ACV directly.
#2. ACV for Lipoma
If you feel irritated while drinking ACV directly, then you can mix it with honey.
Mix 1 tablespoon of raw honey and 1 tbsp of organic apple cider vinegar in a glass of water.
Stir well and drink it to get rid of lipomas.
Take this solution twice per day.
#3. Topical Application of ACV
For this recipe, you need beeswax, cedar and apple cider vinegar.
These ingredients help to soften lipoma and reduce its size.
Melt beeswax in a pan by heating it.
Add dried cedar to the pan.
Turn off the heat after few minutes and allow it to reach room temperature.
Add apple cider vinegar to the mixture and shift the mixture to a container.
Apply this ointment on affected part regularly to see positive change.
Apart from mixing it with honey, you can wrap lipoma with apple cider vinegar for few weeks to see the change.
Initially, you may notice wound like structure but regular use can treat this lump.
There are various innate ingredients that you can mix with ACV to apply it on lipoma. Anyways, these recipes may not work for everyone. Try your luck.
Other home remedies to get rid of lipoma are turmeric powder, honey, flaxseed oil, flour & honey mask and neem oil.
Different Ways to Get Rid of Lipoma
Apart from home remedies, surgical removal of this fat lump is recommended. However, it depends on size, amount of tumor, family history, and pain in some cases.
Surgery
Liposuction
Steroid injections
These are three ways that can be used to treat lipomas.
Surgical removal will leave scars on your skin. Yes, again you need natural ingredients to lighten these scars.
Liposuction though doesn't leave a scar but can be expensive and it's not a permanent solution.
Steroid injections aren't good for your healthy functioning of the body.
So, I personally recommend trying home remedies if the lipoma is in initial stages. Do consult your physician.
Foods that Can Help to Get Rid of Lipoma
Diet plays a vital role in the overall functioning of your health and skin.
Better diet will help to reduce the fat deposits and reduce the lipoma size.
Eat organic fruits and vegetables like corn, soy, and canola.
Drink lots of water and lemon juice to reduce acidity in your body.
Drink flaxseed oil and apple cider vinegar regularly.
Foods that help to burn fat must be considered like green tea, whey, and whole grains.
Artificial sweeteners, sodas, preservatives and carbonated drinks must be avoided.
Do regular exercise and avoid stress.
Try apple cider vinegar for lipoma and share your views in comments.