Sugar and honey lip scrub is an excellent home available remedy, which wipes dead cells and restores smooth skin over your lips.
Chapped, dry and peeling skin over lips doesn't do any favor. Along with your skin, lips suffer in chilly months.
Like you nourish the skin with moisturizers, lips too need natural ingredients.
Wonder! Why to go for natural remedy? When you can try a cosmetic product?
There are bunch of reports that claim the existence of harmful chemical preservatives in beauty products.
Would you prefer a chemical ingredient cream over the natural ingredient? I hope you won't.
DIY Homemade Sugar and Honey Lip Scrub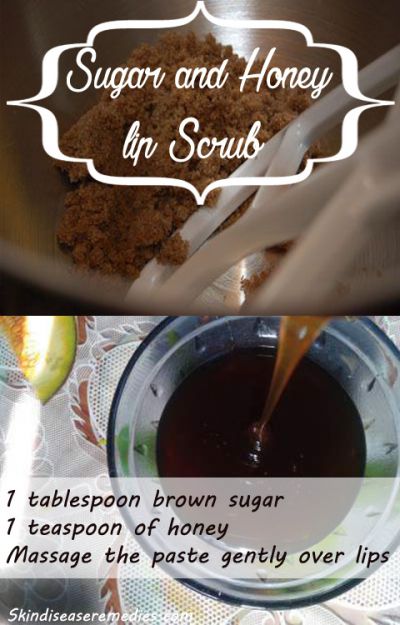 If you ignore to exfoliate your lips, they bleed and a dark line appearance around them.
Peeling or biting chapped lips won't do any favor. It's a debacle; the crusty layer is soon formed over the lips.
Sugar and honey are packed with healing nutrients that pamper your lips. This simplest remedy in the world can be made within minutes.
Let's start without any ado.
Ingredients
Brown sugar or white sugar – 1 tablespoon
Raw honey – 1 teaspoon
Olive oil – 1 teaspoon
Blend all ingredients in a small container to make thick paste. Take the paste and apply directly over the dry chapped lips and gently massage to wipe dead cells.
Yes, it's tempting, but don't eat or lick the paste.
After the gentle massage rinse with water after 1-2 minutes and apply lip balm (or olive oil).
You can store remaining paste in a container.
If you don't want to waste honey over your lips, try coconut oil or olive oil instead. This homemade lip scrub is effective to get rid of chapped, peeling and dry lips.
Humectant properties in honey help to lock moisture over the lips. Sugar exfoliates dead cells and impurities piled over the skin. Anti-inflammatory and antibacterial activity of the paste will reduce inflammation or burning sensation around the lips.
Did you ever use sugar and honey lip scrub? Share your favorite recipe in comment.