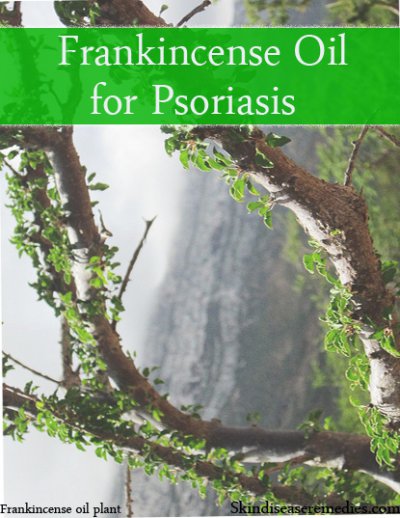 Normally it takes 21-28 days for skin cells to replace themselves, but due to over active immune system skin cells rapidly build up within 2-6 days in case of psoriasis. As skin fail to shed these extra cells, dry scaly patches are formed.
Chronic skin disorders like psoriasis and eczema can't be cured. However, you can reduce their symptoms. Frankincense oil for psoriasis is one such innate remedy that can relieve from inflammation and tones your skin texture.
I personally met a person who has scalp psoriasis. His head was covered with medium sized dry patches. I advised him to moisturize with coconut oil and follow physician prescribed medication.
I don't recommend you to completely rely on natural remedies, because what worked for me may not work for you. However, natural ingredients are filled with essential vitamins and minerals that can enhance overall functioning of the skin. You can hardly find any case of side-effects from home remedies.
Note: Patch test before using frankincense oil on skin.
Frankincense Oil for Psoriasis
Itching and inflammation accompanied by psoriasis patches are embarrassing. About 5 million adults in US alone are affected by this long lasting skin ailment. Experts hold hereditary and T cells (immune disorder) to cause this condition.
Nutrients in frankincense oil can improve psoriasis condition and relieve from inflammation. Because of its healing and aromatic smell, frankincense oil has been extensively used in cosmetic and religious ceremonies.
Moisturizing activity of frankincense oil hydrates dry itchy patches and brings the lost moisture to the skin.
Anti-inflammatory property of this essential oil can reduce inflammation of psoriasis.
Healing properties residing in frankincense oil can actively fasten the healing of scaly patches.
Nutrients in this essential oil are known to repair skin cells, balance hormones and stimulate immune system.
Bacterial and fungal infection can be restrained by anti-infectious property in the oil.
Apart from this, assorted nutrients in the oil fade acne scars, lighten stretch marks, promote cellular growth, strengthen hair, relieve stress, tighten skin pores, treat acne and prevent premature aging wrinkles.
How to Use Frankincense Oil to Treat Psoriasis?
Direct application of essential oil can irritate sensitive skin. So experts suggest blending carrier oil with frankincense oil. After discussing with beauty experts you can blend more than 2 oils with this essential oil to make it more effective.
Blend 3 drops of lavender oil and frankincense oil with 1 teaspoon of coconut oil. Wash the area or cleanse it. Pat dry using soft cloth and rub the oil on dry patches.
Mix jojoba oil or coconut oil with required amount of frankincense oil and gently rub over prewashed skin.
Another essential oil mixture for treating psoriasis: 6 tablespoons of coconut oil, 4 drops of patchouli oil, 10 drops of frankincense oil, 10 drops of geranium oil, 1 drops of sage oil, 11 drops of lavender oil, 1 drop of ylang ylang oil and 9 drops of bergamot oil.
The simplest recipe of frankincense oil for psoriasis is to blend coconut oil and directly apply it over the skin.
Apart from that, stay away from irritants that trigger psoriasis. You can check out foods that trigger this chronic skin ailment here.