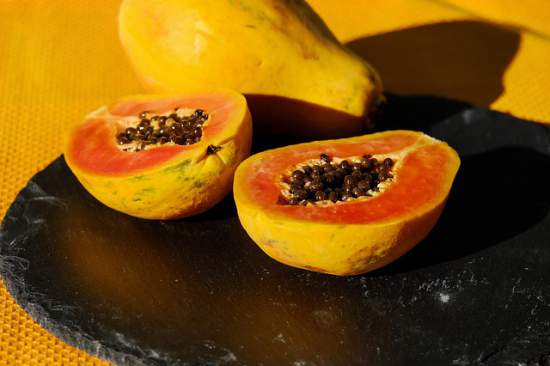 This sweet spear-shaped fruit is delicious as well as nutritious. Normally available throughout the year and it's about 7 inches long. Here, I'll discuss on benefits of papaya for skin/face.
Though am not sure why Christopher Columbus called papaya "the fruit of angels", I like this fruit for it has many beauty and health benefits. Most important one for me is a digestive benefit. 🙂
Papaya has a bunch of nutrients which are important to keep functioning of your body. Anyway, am not going to bore you writing all those health benefits now, just want to share few papaya facial benefits.
Before that let's see what all the vitamins and proteins this tropical fruit has.
Is Papaya Good for Skin?
Papaya is a rich source of vitamin C, folate and vitamin A (carotenoids).
In addition, it's a good source of dietary fiber like magnesium, potassium, copper and vitamin K.
An enzyme called papain is present in fruit as well as in other parts of the tree. This enzyme helps to dissolves inactive proteins and helps in treating digestion problems.
Vitamin A and Papain residing in this fruit helps to eliminate dead cells and restrains free radicals.
It also exhibits antioxidant ability that helps to reduce wrinkles and fine lines.
Papain, as mentioned above, is packed with the high exfoliating property that can cleanse your face.
Alpha hydroxyl acids in this fruit break proteins and also dissolves dead cells.
Hydrating ability exhibited by its nutrients can remove dry itchy patches and make your skin supple.
An exceptional enzyme in papaya helps to lighten the appearance of acne scars and dark spots on your skin.
Assorted nutrients in this natural ingredient can rejuvenate your skin and repair aged skin cells.
Prominent for its healing benefits, Papain fastens the healing process and restrain bacterial infection.
Anti-inflammatory properties housed in papaya help to reduce acne inflammation.
Essential vitamins residing in the fruit enhance collagen production and improve elastin.
Papain, an enzyme present in papaya helps to remove unwanted facial hair.
Vitamin A acts as an antioxidant which protects your skin from free radicals. These free radicals may damage skin cells.
Also for skin firming, scar treating and for reducing wrinkles antioxidant plays vital role.
Now, without ado let me list out few important and amazing benefits of delicious papaya has for the skin.
Amazing Benefits of Papaya (Papita) for Skin, Face, and Acne
This delicious fruit is packed with numerous components that are essential for your skin, hair, and health.
To reap all its nutritional values, many cosmetic companies started incorporating this ingredient into their creams.
#1. Hydrates Your Skin
As mentioned above, enzymes residing in papaya help to remove all dry flaky skin from your face.
Moisturizing your skin is essential to improve its functioning and protect it from harmful irritants.
Low sodium quality of papaya helps keep your skin hydrated.
To the mask more effective, mix honey to it.
Mash ½ cup of ripe papaya into a smooth
Add 1 teaspoon of raw honey to it.
Mix thoroughly and apply it over the prewashed
Leave it to dry naturally for 20 minutes and then rinse it off with water.
Apart from topical application, ingesting papaya will improve your skin texture. Blend it with watermelon or cucumber to make a smoothie.
#2. Papaya Facial Benefits – Skin Brightening
Papain and vitamin C housed in this fruit helps to lighten the appearance of dark spots and improves your skin complexion.
It is packed with natural bleaching abilities.
Keep it simple.
Peel ripe papaya and gently rub the fleshy part of your face, neck, and legs.
Let it dry naturally.
Rinse it off after 10 minutes. Repeat this simple recipe thrice in a week.
Alternatively, you can try lemon juice.
Mash ½ cup of ripe papaya with few teaspoons of lemon juice.
Mix both ingredients well and apply it over the prewashed
Leave it for 30 minutes and then rinse it off with water.
People with sensitive skin can replace lemon juice with vitamin E oil, honey, and plain yogurt.
These ingredients are packed with essential vitamins that can benefit your skin.
#3. Papaya for Acne
Researchers hold inflammation, hormonal imbalance and excess sebum production for acne blemishes.
Anti-inflammatory ability residing in papaya helps to reduce acne inflammation and its vitamin fade acne scars.
Papain is said to remove excess sebum clogged in skin pores and cleanse dead cells from the skin.
Wash your face with lukewarm water to open clogged skin pores.
Pat dry and apply papaya juice using a cotton ball.
Instead, you can just run a small piece of papaya on acne affected skin.
Rinse it off with normal water after 10 minutes.
This homemade recipe will prevent acne and reduce inflammation.
#4. Fades Skin Spots
Skin whitening ability exhibited by Papain helps to fade dark spots, age spots and to remove sun tan.
Mix 1 tablespoon of lemon juice with a ½ tablespoon of raw honey and ½ cup of mashed papaya.
Apply the obtained mask on prewashed face and leave it to dry naturally for 15 minutes.
Rinse it off with water.
Repeat this process 3 to 4 times in a week.
#5. Papaya for Wrinkles
Regular eating of papaya controls premature aging.
Vitamin A residing in this fruit help to remove dead cells and make the skin soft. Alpha hydroxyl acids in this innate ingredient help to dissolve dead cells. Vitamin E and C rejuvenate your skin to make it look younger.
Mash ½ ripe papaya thoroughly till you obtain a smooth
Add few drops of raw honey and 1 tbsp of milk to the paste.
Though looks delicious don't lick it.
Apply it on your face in circular motion.
Allow it to dry naturally for 15 minutes and then rinse it off with water.
#6. Heals Your Cracked Heels
Cracked heels result in inflamed, flaky, itchy and bleeding skin, the hydrating property of papaya help to heal cracked heels and reduce inflammation.
Mash 1 cup of ripe papaya to make a smooth
Apply it on prewashed cracked heels.
Leave it to dry naturally for 15 minutes and then rinse it off.
Apply olive oil to moisturize and wear socks.
Before applying this mask, wash your feet with a pumice stone to remove impurities.
#7. Papaya to Remove Unwanted Facial Hair
When you topically apply the mask on cracked heels, Papain residing in papaya weakens hair follicles and prevents its growth.
For this experts recommend selecting raw papaya.
Mash raw papaya in the required amount and mix 1 teaspoon of turmeric powder to it.
Apply thoroughly mixed mask on prewashed face.
Allow it to dry for 15 minutes.
Remove the mask with lukewarm water and wet cloth.
Repeat this once in a week.
#8. Papaya to Remove Tan
Vitamin A, C & Papain packed in papaya help to lighten your skin complexion and remove tan.
Mash 4 cubes of ripe papaya.
Add ½ tablespoons of turmeric powder and 1 tbsp of raw honey to it.
Mix well and apply it over the affected
Leave it to dry for 20 minutes and then rinse it off with water.
#9. Treats Melasma
Melasma is formed due to internal and external factors. Essential vitamins and minerals housed in papaya help to exfoliate your skin and make it smooth.
Mash ripe papaya and apply it over melasma affected skin.
Rinse it off with water after 20 minutes.
How to Use Papaya for Skin?
As mentioned above you can either consume it or make a face mask and apply it on the skin.
Get some fresh papaya and mash them, mix 2 tbsp of honey to the paste. Now apply this paste on your face or on any other part of the body.
Mixing mashed papaya with milk cream can help hydrate your skin from the outside.
For skin tightening, mix mashed papaya with honey, rice flour and apply it on face and body.
The Ultimate Papaya Face Pack Recipe
Get ripe papaya and mash it. Mix honey, lemon, and yogurt to it.
After mixing it thoroughly apply it on the face.
Rinse it off with water after 15-20 minutes.
There are endless benefits of papaya for skin; you can share your experience with this spherically shaped fruit in comments.
Tips
Excess consumption of this delicious fruit can damage the esophagus.
Black seeds in papaya must be avoided, as excess consumption of these seeds can result in paralysis.
People those who are prescribed by anti-blood clotting medications must avoid ingesting papaya as they may interact with each other.
If you're allergic to ingredients of above face mask or papaya, then avoid using it.
Breastfeeding and pregnant women must avoid excess consumption of papaya.
Consume ripe and sliced papaya within a day or two.
To reap benefits of papaya for skin, you can either ingest or topically apply it on the face. Beauty experts, however recommend the topical application for papaya facial benefits.