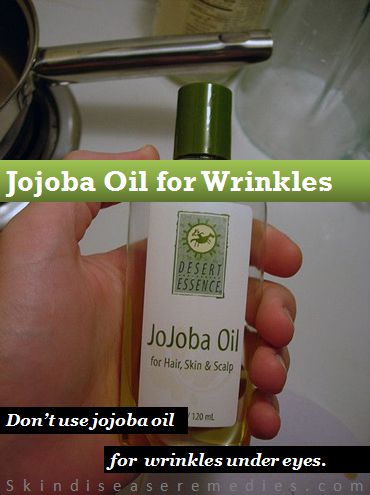 As you age skin loses its natural elasticity and wrinkles starts appearing.
Instead of jumping on media promoted products, beauty experts recommend jojoba oil for face and eye wrinkles.
What makes this oil distinct or better?
It has identical characteristics like your natural oil sebum. This liquid wax is extracted from seeds of the jojoba plant.
Pronounced ho-ho-bah, this oil is native to south-west Americans and northern Mexicans. To reap its nutritional value, numerous moisturizing and cosmetic products include it as an ingredient.
Unlike your beauty creams, this oil doesn't clog skin pores and can effectively control sebum production.
Is Jojoba Oil Good for Wrinkles?
Fine lines or wrinkles are all around your eyes, on forehead and face.
When you don't pay attention towards your skin, external factors damage them and you'll be left with no option but to compromise.
Harmful UV rays in sunlight damage your skin and you might mistake it as aging skin.
Unhealthy diet, bad skin care, and smoking make your skin loses its natural elasticity.
To combat them you skin secrets natural oil (sebum) to protect you from fungi and bacteria.
But, alarming levels of pollution and UV rays makes your skin dry, and make it lose its elasticity and thus results in wrinkles
Common causes of wrinkles include UV rays, aging, sleeping position, poor nutritional diet, facial expressions, free radicals, and gender. (Source)
Jojoba oil is an emollient, so it's well known for hydrating skin and fading wrinkles. Restorative properties in jojoba oil enhance elasticity of skin, thus helps to disappear wrinkles over face and under eyes.
Few beauty experts suggest avoiding jojoba oil under eyes. You can mix it with essential oil to apply a light barrier over the skin which protects your skin and locks moisture.
With its waxy characteristic jojoba oil locks moisture over the skin and thwarts germs, impurities, and external elements.
Vitamin E and B-complex residing in this liquid wax protects your skin from harmful UV rays and heals minor sunburns.
Nutrients in jojoba oil fasten the healing process and help to get rid of aging skin.
The excellent cleansing ability of this base oil can help to remove impurities, dead cells and pollutants piled over the skin.
Vitamin E housed in the oil blocks UV rays thwarts free radicals and acts as anti aging cream. (1)
It also controls excess sebum production by tricking your skin to produce less oil. Thus it can control acne lesions.
Gamma linoleic acid and other essential fatty acids packed in the liquid promote collagen production and help to reduce aging wrinkles.
However, you must use it topically under the supervision of a dermatologist.
How to Use Jojoba Oil for Face Wrinkles?
To reap above mentioned innate ingredients of jojoba oil for skin, initially, cleanse your face and exfoliate using natural or store bought product. This helps to open up pores and shed dead skin cells.
Beauty experts recommend patching test before applying it to the skin. Because ingredients in store bought jojoba oil may irritate your skin and result in allergic reaction.
You can blend this base oil with other essential oils to make it more effective.
Take few drops of pure jojoba oil in your palm.
Gently massage the oil over prewashed face in circular motion.
Avoid eye areas slowly massage in upward direction starting from jaws to forehead with light pressure.
Thoroughly apply the oil at wrinkles and fine lines.
Allow it to dry naturally for 15-20 minutes, so nutrients in this liquid wax can penetrate into the skin.
At night you can apply pure jojoba oil topically so as to leave your skin to breathe well.
Note: You can include jojoba oil as an ingredient in your facial mask.
Honey and Jojoba Oil for Anti-Aging
Healing and the emollient ability of raw honey need no explanation.
This innate ingredient is packed with all those essential nutrients that a healthy skin needs.
Take 8 fresh strawberries and mash it into a smooth
Add 1 tablespoon of raw honey, 3 tablespoons of jojoba oil and 1 teaspoon of lemon juice to the paste.
Now mix thoroughly and apply the face mask over face.
Leave it for 15-20 minutes and then rinse it off with water.
Aloe Vera and Jojoba Oil for Aging Skin
I too don't like the sticky nature of aloe gel, but healing benefits can't be ignored.
Blend 3tsp of aloe gel with 1 tsp of pure jojoba oil.
Optionally add 2 drops of essential oil to the mask.
Wash your face with water or cleanse it.
Pat dry and apply this mask on the face.
Leave it to dry naturally and rinse it off with water.
How to Use Jojoba Oil for Eye Wrinkles
Based on the discussion over Acne.org, it's recommended not to use pure jojoba oil to remove under eye wrinkles, because skin here is very sensitive. You can either mix it with any facial moisturizer or just avoid it completely.
However, some users at Acne.org recommended it to remove eye wrinkles, as they used it and found helpful. But remember that jojoba oil for wrinkles under eyes works only when it's caused by dry skin.
Jojoba Oil for Oily Skin
Topical application of jojoba oil forms two barriers over the skin. On one hand, it locks moisture and on another hand it controls sebum production, thus resulting in the acne free skin.
Also read: Jojoba oil for acne scars
So don't be afraid of using this natural wax over your skin.
Tips to Avoid Wrinkles
Not just applying jojoba oil, to get rid of wrinkles you must change your lifestyle and follow below-listed tips.
Smoking can damage your skin, so avoid smoking
Drink enough water and keep your skin well hydrated
Avoid chemical filled creams
Use non-toxic sunscreen
Get enough sleep
Include vitamin rich diet
Don't spend long hours before computer or mobile screens
Exfoliate your skin regularly, at least twice in a week
Did you ever use jojoba oil for face wrinkles or eye wrinkles? Let us know through comments.
Save