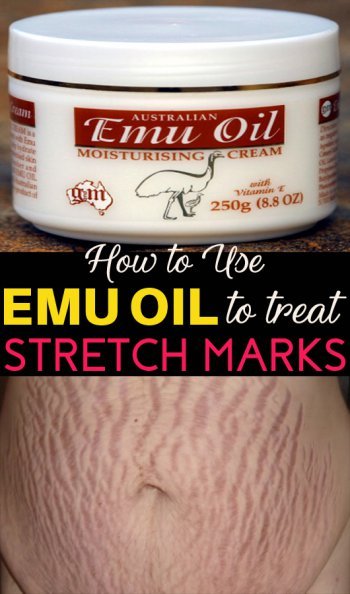 Emu oil penetrates into the skin and its nutrients properties reduce inflammation, heal wounds and lighten the appearance of scars. Read on to know how to use emu oil for stretch marks.
First time I heard about Emu bird is when my cousin discussed about its demand in the market. After inquiring I came to know that its oil has extensive use in medical filed.
In this article you'll about miracle benefits of emu oil for your skin.
What Causes Stretch Marks?
As the body grows dermis layer stretches slowly. But, due to sudden weight gain or loss connecting fibers break at different spots. This breakage results in silvery white long lines over upper layer of the skin.
Though there aren't associated with serious ailment, most people want to get rid of stretch marks because of cosmetic concern.
Pregnancy, sudden gain or loss in weight and puberty are held responsible for this skin disorder.
Note: Experts say that you can't permanently treat stretch marks. However, repeated application of natural and cosmetic creams can lighten its appearance.
Is Emu Oil Good For Stretch Marks?
This oil is obtained from fat of Emu bird, which resembles small ostrich. Fatty acids residing in this oil help to treat various health and skin ailments.
Its moisturizing and emollient properties are renowned in cosmetic industry.
Omega -3 and 6 fatty acids packed in emu oil makes your skin healthier.
Moisturizing activity of the oil fasten the healing process of stretch marks.
Its unique ability helps to penetrate deep into the skin and repair broken tissues.
Inflammation results in itching, redness and discomfort in people with stretch marks, anti-inflammatory ability of this oil can reduce tingling sensation.
Repeatedly massaging with the oil improves blood circulation and promotes youthful skin.
Assorted properties in emu oil enhance collagen production, stimulate regeneration of new cells and avoid deep tears of skin layers.
Vitamin A packed in this natural oil exhibits antioxidant properties, which thwart free radicals.
Oleic acid helps to prevent aging wrinkles and stimulate cell regeneration.
Sapogens makes your skin soft and supple.
Terpines exhibit antiseptic ability, which helps to heal wounds and injuries.
Emu oil is one of the natural trans-dermal oil, which easily gets penetrated deep into the skin and repair connective tissues.
Packed with vitamin E, palmitic acids, oleic acid and linoleic acid, topical application of emu oil will improve your overall skin texture.
Don't expect overnight results. Regular application over stretch marks will improve your skin texture and helps to fade these annoying scars.
How to Use Emu Oil for Stretch Marks?
Like any other natural remedy, it's damn simple to use emu oil.
But make sure that you prefer only pure emu oil. As processed versions include chemical preservatives, which can irritate your skin.
Wash your skin with water or cleanse it to remove dead cells.
Pat dry using soft cloth.
Take 1-2 drops of pure emu oil in your palm and gently spread over the desired part.
Within few minutes the oil will get absorbed by the skin. So for small area take no more than 2 drops of emu oil.
Massage gently in circulation motion and leave it to dry naturally.
Ultimate Emu Oil Recipe to Treat Stretch Marks
You'll need aloe vera gel (2 tbsp), shea butter (1/4 cup), lavender oil (3 tsp), frankincense oil (5 drops), rose otto oil (5 drops), geranium oil (5 drops) and emu oil (2 teaspoons) for this recipe.
All these ingredients are packed with lots of nutrients that are essential for your skin. Not just they improve collagen production, but lighten the appearance of scars and stretch marks.
Dump all listed ingredients in a small blender jar.
Depending on your blender, blend at least for 2 minutes till you obtain white fluffy texture.
Apply this lotion on prewashed face and allow it to dry naturally.
To save your favorite garments, cover the area with a cloth.
You can avoid stretch marks by regularly massaging over knees, waist and shoulders. Vitamins residing in the oil enhance collagen production and help to stretch the dermis layer without deep tears.
Apart from being beneficial to your skin, emu oil can reduce cholesterol and relieve from menstruation discomfort.
Patch test before using emu oil for stretch marks
Other Benefits of Emu Oil
As mentioned, not just topical application you can use this miracle oil internally.
Emu oil acts as natural sunscreen. It protects your sensitive skin from harmful UV rays.
Prominent for its healing abilities, this oil can heal burns and cuts.
Cold sores on lips and skin results in discomfort and inflammation. Emu oil with its healing ability can treat cold sores.
Analgesic ability of this oil can relieve joint and muscle pain.
Anti-inflammatory property of emu oil can treat various skin ailments like eczema, psoriasis and rosacea.
Possible Side-Effects of Emu Oil
Researchers state that biologically emu oil is identical to your natural oil sebum. So, it doesn't clod skin pores or irritates your skin.
However, you must try with small amount of emu oil to make sure your skin isn't allergic to this oil.
Based on studies, adverse effect of emu oil are uncommon.
Tips to Prevent Stretch Marks
Though you can't completely avoid stretch marks, with good lifestyle you can at least reduce its appearance.
Hydrate your skin from inside and outside by ingesting water rich diet and by applying essential oil on skin.
Control your weight, sudden weight gain or loss isn't good for your health.
Ingest vitamin C rich diet. Citrus fruits like oranges and lemon are prominent for vitamin C.
Get some vitamin D. Studies show that maintaining healthy levels of vitamin D will reduce stretch marks.
Zinc helps to reduce inflammation. So include zinc rich diet such as fish and nuts.
Don't avoid, treat stretch marks as they appear.