It's said that Queen of Sheba was first to believe mystical healing benefits of Dead Sea mud. Though scientist fail to back this theory, various clinical researches carried out in different parts of the world conclude that high concentration of minerals in Dead Sea mud effectively improves skin tone.
Dead Sea is flanked by Jordan, Palestine and Israel; it's the Earth's lowest elevation. Exceptional benefits of Dead Sea mud enticed cosmetic world to peddle skin care products with its salt and mud crystals. High concentrations of magnesium, sodium, phosphates and other minerals are boasted in this lake.
Dead Sea Mud Mask Benefits for Skin
Its benefits are not just confined to skin; serious diseases like cancer, arthritis and rheumatic can be controlled with minerals in Dead Sea. But, remember you shouldn't replace medicines prescribed by doctor with this natural remedy.
1. An Effective Remedy for Acne, Eczema and Psoriasis
Research carried out in 2006 concludes that minerals in Dead Sea mud have antimicrobial properties. P.acnes, the acne causing bacteria can be restrained with antimicrobial agents. Its natural exfoliating property cleanses dead cells and impurities off the body and tightens the skin pores.
This doesn't mean you must give up all innate remedies we listed here. Remember, these natural remedies may work for you and fail to treat in others case. So, try the one with which you're comfortable.
A research carried out over 25 psoriasis patients conclude, that minerals in this lake can reduce psoriasis and eczema conditions. But, this can't permanently treat these chronic skin diseases.
2. Get Rid of Stretch Marks and Cellulite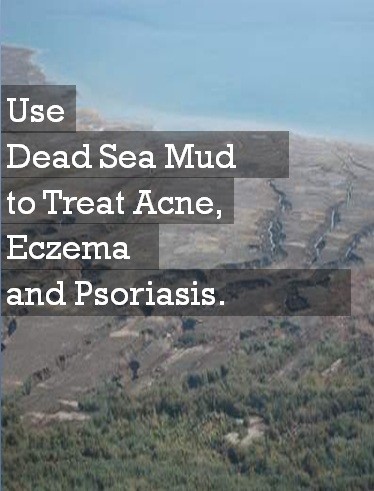 Sudden gain or lose in weight leave annoying marks around the waist and on knees, popularly known as stretch marks. Similarly, when the fat locks under the skin it forms cottage-cheese like appearance called cellulite. Assorted minerals housed in this mud improve blood circulation and cleanse toxins through skin pores.
Body wraps made from Dead Sea mud claim to detoxify and nourish the skin, also reduces stretch marks and cellulite.
Related post: Coconut oil for Stretch marks
3. Hydrates Your Skin
Dead Sea mud is packed with magnesium, sodium and phosphate. Study carried out, conclude that bathing in magnesium rich lake will improve skin functioning and hydrates it. Along with this it reduces inflammation and enhances healing.
Repeated topical application of this clay will make your skin smooth by improving its appearance and tone.
4. Enhances Blood Circulation
Massaging with Dead Sea mud soap or mask will increase blood circulation, which then improves cell functioning and thwarts toxins from the blood.
5. Relieves from Pain
Combine water with Dead Sea salt to treat rheumatic conditions and arthritis knee pain. Minerals residing in Dead Sea mud relax your nerves and increases blood circulation.
Ben Gurion University carried out a research, which concludes that patients with Arthritic pain showed significant improvement.
To serve you with these exceptional mineral properties, cosmetic industries started manufacturing Dead Sea mud mask and soap. You can now enrich your skin with benefits of Dead Sea mud soap and mask.
Anyhow experts believe it's not just minerals in this lake that clears skin but, Dead Sea Lake is covered by thick haze, which filters UV rays to treat skin disorders.
What do you think about benefits of Dead Sea mud? Would you like to give it a try?