With its aromatic smell, Chandan face pack has cosmetic and medicinal properties. Indians use this natural mask in traditional and religious rituals.
You can get rid of skin ailments like dry skin, oily skin, acne and dark spots with this home available face pack recipe.
These cosmetic issues disappoint teenagers, who desire to have the alluring look like media promoted models. Their quest for the best product leaves them with more skin disorders.
Natural home remedies like sandalwood face mask are effective and safe to use as it is packed with essential nutrients. Below listed are its benefits for the skin.
Benefits of Chandan Face Pack for Skin
Inflammation caused due to chronic skin ailments like eczema, psoriasis and acne can be reduced by regular application of this homemade face mask.
Apart from cosmetic benefits, sandalwood exhibits medicinal benefits. In this article, I'll discuss its beauty benefits.
Toning ability of sandalwood powder shrinks large skin pores and avoid wrinkles over the skin. Vitamins housed in this homemade face mask recipe tighten the skin.
Regular application of this face mask will make your skin supple and soft.
Reduce inflammation, itching and redness over the skin.
Assorted nutrients in this innate ingredient help to cleanse impurities and improve skin complexion.
Antibacterial activity of this face mask recipe will treat acne blemishes and restrain other infectious bacteria.
Its anti-tanning ability helps to protect your skin from harmful UV rays and dark complexion.
Apart from this, you can use sandalwood powder to reduce stress, relieve from a headache and make your body cool.
How to Use Chandan Face Mask at Home?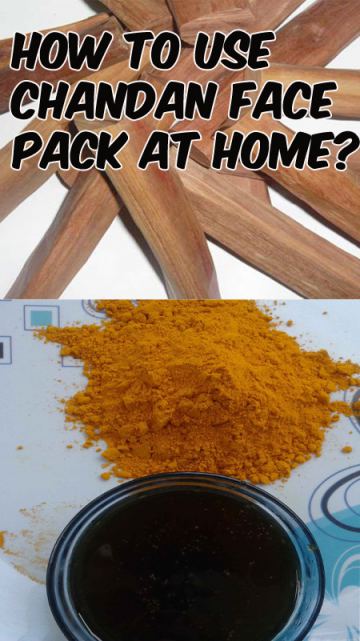 You can use this simple ingredient to make different recipes according to your skin type.
Before you proceed further let me share this wonder recipe.
How to Make Sandalwood Paste from Stick?
Wash the Chandan stick with water and start rubbing it over clean stone.
This process will result in the smooth paste, add some turmeric powder or gram flour and apply it over prewashed face.
You can also mix some raw milk to the paste to make it more effective. This particular face pack will treat acne, soothe minor burns and moisturize your dry skin.
Chandan Face Pack for Acne
Wash your face with lukewarm water or expose it to steam, which will help to open blocked skin pores.
Pat dry using a soft cloth.
Mix 1 tablespoon of sandalwood powder with required amount of rose water in a bowl.
Evenly apply this face pack on the face and leave it to dry naturally.
Sandalwood for Glowing Skin
I'd like to make things simple because with complexity you'll not be able to practice regularly.
Mix 1 tablespoon of sandalwood powder or make it at home using sandalwood stick.
Mix raw milk to the powder and apply it over the face. After 15-20 minutes, rinse it off with water.
Chandan Face Pack for Oily Skin
Mix orange peel powder with sandalwood powder and rose water.
You can replace rose water with distilled water. But, as rose water is also packed with anti-inflammatory and antibacterial properties it can effectively treat ailments.
Wash your face and apply this face mask regularly.
Honey and Chandan Face Pack for Dry Skin
Honey is renowned for its humectant ability.
Mix 1 teaspoon of raw honey with 1 teaspoon of sandalwood powder and apply it over the face.
Rinse it off after 15-20 minutes.
Sandalwood Powder and Gram Flour
These two remedies are prominent traditional recipes.
Increasing impurities and dead cells must be cleansed. A mixture of these two ingredients will help to exfoliate your skin.
Take required an amount of Chandan powder and gram flour powder in a bowl.
Add distilled water to obtain smooth paste like consistency and apply it over prewashed face.
Share your own Chandan face pack recipe in comments.