Being a father or a mother, baby eczema may worry you more than anything. The red itchy patches over your baby's silky skin will not just ruin appearance but it triggers pain. Atopic dermatitis or eczema affects 20 percent of infants.
Though there is a long list of steroids and creams for treating eczema flare ups, it may not work for all. This is the time when parents look for a natural remedy for their lovely baby. Most of them over the web claim that breast milk for baby eczema works effective. Let's, check out what's true.
Must read: Is Eczema Contagious?
An Evidence Based Approach: Breast Milk and Baby Eczema
Studies prove that breastfeeding till 2 years of age will form a protective layer from atopic dermatitis. However, other cases have shown no or side-effects of breastfeeding for eczema.
The World Health Organization recommends breastfeeding up to 6 months and continue it up to 2 years. American Academy of Pediatrics, claim that early introduction of solid food for baby may affect development of atopic dermatitis. Experts there recommend avoiding the solid food until 6 months of age, including cow milk till 12 months of age. (Anyway, studies are lacking to prove food is the main trigger for eczema.)(1)
Experts say cow's milk has 20 potential allergens, which may trigger eczema in your child.
The main cause behind eczema in children based on research is family linkage to eczema. Chances of eczema transferring from parents or other family members are more. (2)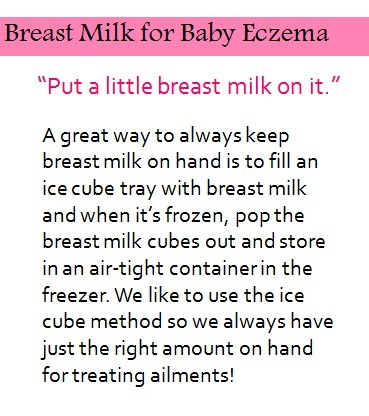 So, studies conclude that it's not same for all. Breast milk may or may not work for your baby, I recommend to first test with breast milk under the supervision of a doctor. If rashes increases, then conclude that breast milk consists of some allergens. So the mother needs to stop eating allergic foods like wheat & corn, eggs, dairy products, soy, peanuts and food additives.
How to Use Breast Milk for Baby Eczema?
Marcie from Simplyrealmoms.com suggests applying breast milk over affected area and continuing with breastfeeding. Avoid having allergic foods mentioned above. She continues sharing that using breast milk you can cure ear, eye and minor cuts.
Best way to use breast milk is to fill ice cube tray with breast milk and freeze it. When it's completely frozen, pop the breast milk cube to use it on flare ups. This way you'll have enough amounts in hand to use.
Must read: 33 uses of breast milk
Alternate Remedies for Baby Eczema
As studies prove, it may not work for all. So in that case, a mom shared her alternate natural remedy to fight baby eczema and shared her awesome story with the internet.
Heidi Carolan from England visited doctor as soon as she noticed red rashes over her baby's cheek. Even after using several creams eczema never reduced. So they visited a dermatologist, but that too went in vain. Creams never reduced eczema, but just increased them. Noticing that her baby may be allergic to ingredients in the cream, Carolan started surfing web for natural remedies and found coconut oil to be more effective.
She started using virgin coconut oil and soap nuts (from soapberry tree), after boiling the nut she made the liquid form of it as baby's shampoo. With this combination she noticed a significant change in eczema flare ups. Now, when she looks back at her son's photos with eczema she recalls what she went through at the time. (source)
If you can't use soap nuts, just use virgin coconut oil over baby's skin to treat eczema. It will give your baby instant relief from itching.
Share your views on using breast milk for baby eczema in comments.