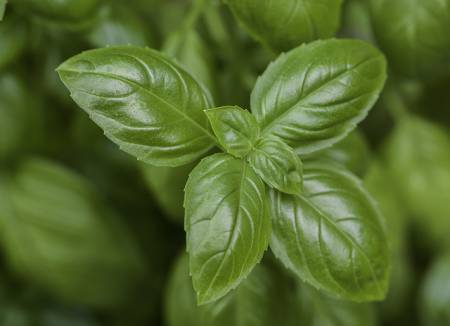 I love nature, be its beauty or its remedies, they can fill your health, skin and hair with necessary nutrients. In this article I'll be discussing about one such innate herbal remedy, which is renowned for its exceptional properties.
From Ancient times basil is used in treating various health and skin ailments. Benefits of basil essential oil for skin includes treating acne, preventing blackheads, improving skin tone, reliving itching and fasten the healing process. This oil is extracted from basil plant, which belongs to mint family and is scared in India.
Basil Essential Oil for Skin
It has ability to reduce inflammation, fight bacteria, restrain free radicals, reduces chronic skin ailments like acne, eczema, enhances collagen production and improve metabolism of skin cells, makes it an effective home remedy for skin.
Assorted nutrients in this oil will improve skin tone and make you look much younger.
Antibacterial and anti-inflammatory activity of basil essential oil can reduce acne inflammation and restrain bacterial infection.
Also prevents blackheads and whiteheads. Blend this oil with multani mitti, honey and lemon juice to get rid of whiteheads.
Itching caused due to honey bees, insects and snakes can be relieved by topical application of basil oil.
Antiseptic, antibacterial and antifungal properties residing in basil essential oil has ability to restrain infections on cuts, wounds and injuries.
Vitamin C housed in the oil will enhance collagen production and aid to get rid of wrinkles/fine lines.
Skin disorders like ringworm, eczema and acne can be treated by topical application of the oil.
Apart from this, basil leaves when ingested can remove toxins from blood and prevent acne blemishes.
Other Benefits of Basil Essential Oil
Massaging with this oil on scalp will improve blood circulation and eventually promotes hair growth.
Scalp issues like dryness and itching can be relieved by nutrients in basil oil.
Adding basil oil with shampoo or conditioner will help to reduce excess hair fall.
Weekly once or twice apply amla powder and basil essential oil mixture on hair for darker hair.
Rinse basil oil mixed with water for 2-3 times a day to treat mouth ulcers.
Aromatic smell of basil oil can relieve you from stress and depression.
Digestive issues like constipation, stomach cramps and indigestion can be reduced by consuming basil leaves.
Respiratory issues like asthma, bronchitis and other allergies can be relieved by inhaling this oil.
Because of its exceptional benefits, most cosmetic, health industries and restaurant include this essential oil to their products.
How to Use Basil Essential Oil for Skin?
High concentration of essential oil may sometimes irritate your sensitive skin, so it's better to dilute it with carrier oil.
Oils which you can blend are bergamot, cypress, Geranium, Peppermint, Lemongrass, Cilantro, Rosemary, Wild Orange and Thyme.
Wash your skin with water or cleanse using exfoliator. In case of acne blemishes, expose them to steam so that blocked pores open up.
Pat dry and apply basil essential oil (dilute with coconut oil) on affected skin.
Leave the skin to dry and nutrients to penetrate deep.
Depending on your skin type you can use it twice or thrice in a week.
Note: Pregnant women must stay away from home remedies.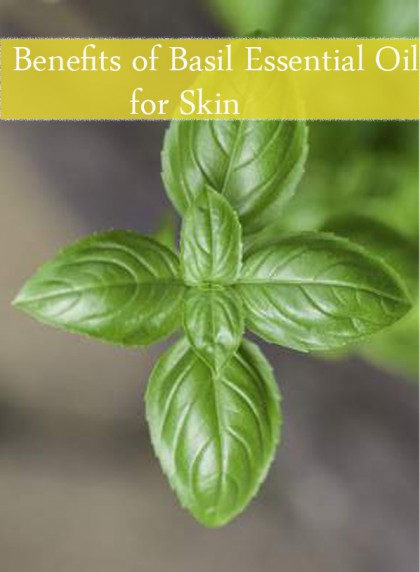 Image source: 1